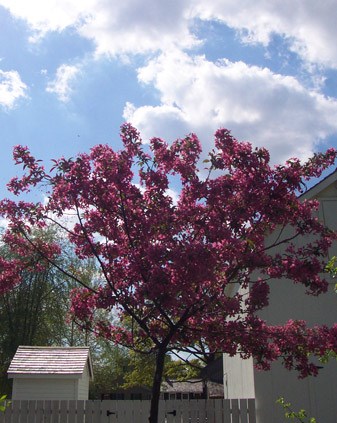 Plant life at Lincoln Home National Historic Site reflects the native and nonnative species that occured during Mr. Lincoln's residency, from 1844 – 1861. At that time, the tallgrass prairie of pre-settlement times had been developed into agricultural lands and small urban centers like Springfield.
The plant life of the prairie was replaced with farm crops and commercial plants available in local nurseries. Victorian gardens, ornamental shrubs, fruit trees, and fragrant flowers, purchased from local merchants, flourished in Mr. Lincoln's neighborhood. Springfield was praised in the Illinois Journal in 1856 as "a bright gem of the prairie" recognized for its beautiful gardens and tree-lined streets.
Today, the site represents Mr. Lincoln's neighborhood in the year 1860. Stately shade trees and ornamental fruit trees are reminiscent of the past. Many of the trees and shrubs on site provide habitat for current wildlife – the American Robin (Turdus migratorius) nests in the Beautybush (Kolkwitzia amabilis) and a Raccoon (Procyon lotor) finds refuge in the old Silver Maple (Acer saccharinum). The tallgrass prairie plants of pre-settlement times are reflected in the wild strawberries (Fragaria virginiana) growing in the Legacy Gardens and the bur oak trees (Quercus macrocarpa) on site.