Nature & Science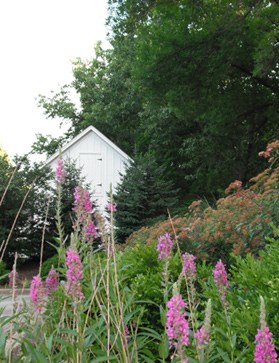 Abraham Lincoln's hometown, Springfield, Illinois, is situated between two tributaries of the Sangamon River, with Spring Creek to the north and west and Sugar Creek to the south and east. Historically, the rich land along the Sangamon River consisted primarily of tallgrass prairie with limited numbers of floodplain forests and upland groves of majestic hardwood trees.
The first families to settle in the Springfield area arrived in 1818. By 1823, approximately twelve log cabins dotted the landscape and within fourteen years Springfield had grown to 1,500 inhabitants. Springfield and Sangamon County underwent dramatic changes during the mid-1800s beginning with the transfer of the state capital to Springfield in 1839. The population of Springfield increased steadily between 1840 and 1848 from 2,600 to 3,900 inhabitants. With the coming of the Sangamon and Morgan Railroad between 1848 and 1850, the population grew from 3,900 to 5,100. During the 17 years, from 1844-1861 that Abraham Lincoln and his family lived in the house at Eighth and Jackson Streets, the population of Springfield increased from 3,900 to more than 9,400.
In 1850, the agricultural community of Springfield exported 100,000 bushels of wheat, 350,000 bushels of rye and oats, 3,300,000 bushels of corn, 120,000 pounds of wool, and more than 120,000 hogs. Farms, hog-raising operations, local grain mills, breweries, distilleries, and agricultural implement dealers all prospered at this time. During the mid-1850s, the Chicago and Alton Railroad delivered sizeable loads of lumber, lime, and coal to supply the needs of a commercial and residential construction boom.*
Lincoln Home National Historic Site is a 12.28-acre unit of the National Park System which encompasses Blocks 6, 7, 10, and 11 of Elijah Iles' [April 11, 1836] Addition to the City of Springfield, Illinois. The Lincoln Home, constructed in 1839 and restored to its 1860 appearance, is part of the Site's Historic Zone, which includes 17 other historic structures. The historic zone is being restored to the appearance of the neighborhood as the Lincolns would have known it, especially the area immediately adjacent to their home.
*From "Archeological Overview and Assessment of Lincoln Home National Historic Site, Sangamon County, Springfield, Illinois" by Alan J. Osborn, for the Midwest Archeological Center, 2001


Last updated: April 10, 2015