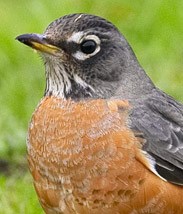 The diversity of avain fauna found at Lincoln Home Natural Historic Site is impacted by the fact that the park encompasses a four block area surrounding the home of Abraham Lincoln in downtown Springfield Illinois.
Northern Cardinals (
Cardinalis cardinalis
) and American Robins (
Turdus migratorius
) are the most common indigenous species found within the park. Less frequent sitings include Red-Tailed Hawks (
Buteo jamaicensis
), Herring Gulls(
Larus argentatus
), and Northern Filckers(
Colaptes auratus
).