Mary Lincoln
Mary Ann Todd was born in Lexington, Kentucky on December 13, 1818, of a prominent and influential family whose ancestors had a distinguished record in the American Revolution.

When she was about eight years old, Mary entered the Academy of Dr. John Ward, an Episcopal minister who was ahead of his time in running a coeducational school. Mary received more education than most women did at that time and, perhaps as a result, she sometimes expressed her opinions more freely than some of her contemporaries considered proper.

Considering her wealthy and aristocratic family background, her attitude toward marriage was surprisingly free of snobbery. She said "I would rather marry a poor man - a man of mind - with a hope and bright prospects ahead for position, fame and power than to marry all the houses [of] gold."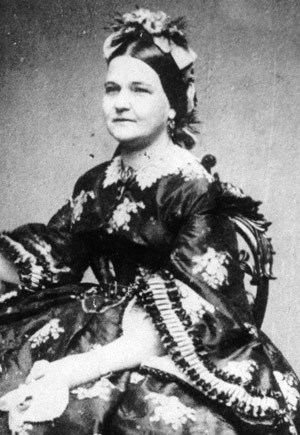 On November 4, 1842, Mary and Abraham were married. Because Lincoln came from a humble background, some members of Mary's family did not approve of her choice of a husband. In the course of their marriage, Mary sometimes lived under circumstances less luxurious than she was accustomed to, but she eventually became First Lady of the United States.

Shortly after her husband's death, Mary wrote: "There never existed a more loving and devoted husband." Mary Todd Lincoln died in Springfield on July 16, 1882, having never returned to the home she shared with Abraham Lincoln.

Last updated: August 22, 2023