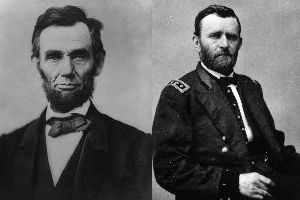 By Timothy P. Townsend, Historian, Lincoln Home National Historic Site
"Hold on with a bulldog grip, and chew and choke as much as possible." These determined words of advice were given to General Grant as reassurance and approval of his costly plans for defeat of the Confederate army from a war-weary President Lincoln, just months before the 1864 presidential election that seemed unwinnable at the time.
The last year of the Civil War brings to mind a turn in fortunes for the Union and for the retreating Confederate army--of Lincoln planning for reconstruction as General Grant finishes the war by crushing Lee's rag-tag force. What adds an even more fascinating twist to the chain of events is that a national presidential election was held in the midst of Civil War.
A work of fiction couldn't be written to match the events of the American Civil War. Especially when one considers the way Abraham Lincoln and Ulysses S. Grant came together from obscurity to end the nation's bloodiest conflict. This essay will take a closer look at the events that brought these two leaders to prominence and how they worked and thought in concert to achieve their goals--victory in the 1864 election and victory in the war.