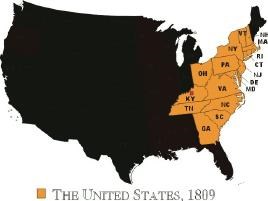 By Timothy P. Townsend, Historian, Lincoln Home National Historic Site
Today we most often see Lincoln in the form of larger-than-life statues, such as this one that sits in the Lincoln Memorial in Washington, DC. Yet through most of his life Lincoln was just one of many frontier boys, or militia members, or attorneys, or, as he was in 1809, just one of many Americans entering the world on the frontier of a young nation.
Abraham Lincoln was born on February 12, 1809 near Hodgenville Kentucky, in a one room log cabin. It had a dirt floor and no glass windows. Lincoln was the second of three children born to Thomas and Nancy Hanks Lincoln. Lincoln's older sister, Sarah, was born in 1807 and his younger brother, Thomas, who died in infancy, was born in 1812. Abraham Lincoln was the first president born in a log cabin, and the first born outside the original thirteen states.
Lincoln's father was a farmer who spent much of his life on the frontier continually pushing west for better opportunities. Lincoln lived with his family on the farm of his birth until 1811 when they moved several miles away to a farm on Knob Creek.