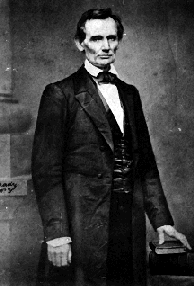 Introduction
Toward the end of 1859, D. W. Bartlett published in New York Twenty-one Prominent Candidates for the Presidency in 1860, and in early 1860 a Philadelphia publishing house printed John Savage's Our Living Representative Men, Prepared for Presidential Purposes. Abraham Lincoln was not listed among the "prominent candidates" in the former, nor was he considered "prepared for Presidential purposes" in the latter (Freeman 1960, 76-77).
Yet, on May 18, 1860, he was chosen as the Republican Party's candidate for the Presidency. In a few short months he had been propelled from a relative unknown to winning the Republican Nomination.
The Cooper Union Address delivered in New York City on February 27, 1860, propelled Abraham Lincoln to the 1860 Republican Nomination.