Buffalo, New York - Inaugural Journey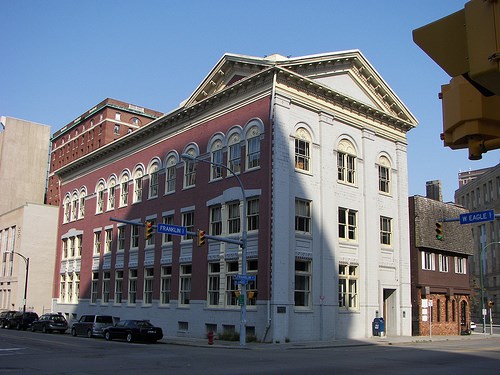 Buffalo, New York
February 16-18, 1861
In Buffalo, New York, Lincoln was greeted at the Exchange Street Depot at about 4:30 p.m. by a crowd estimated at 10,000 that included former President Millard Fillmore. The group escorted Lincoln to the American Hotel on Main Street between Eagle and Court Streets. Despite police and military accompaniment the group was growing more disorderly, resulting in Major David Hunter's arm being dislocated. The Buffalo Commercial Advertiser reported the danger of such enthusiasm.
The lines were broken and Mr. Lincoln was able to enter his carriage. Women fainted, men were crushed under the mass of bodies and many others had their bones broken. Once out of the depot every man uttered a brief "Thank God!" for the preservation of his life. More with personal injuries were carried away and the fainted women were recovering under a free use of hydrant water.
Lincoln, having safely arrived at the American Hotel, echoed his Springfield Farewell Address in his remarks spoken from the balcony.
Your worthy Mayor has thought fit to express the hope that I may be able to relieve the country from its present---or I should say, its threatened difficulties. I am sure I bring a heart true to the work. For the ability to perform it, I must trust in that Supreme Being who has never forsaken this favored land, through the instrumentality of this great and intelligent people. Without that assistance I shall surely fail. With it I cannot fail.
Lincoln was able to relax a little during his time in Buffalo because he arrived on a Saturday and would stay over until Monday morning. On Sunday morning former President Fillmore picked Lincoln up at 10:00 a.m. and they rode by carriage to the First Unitarian Church at Eagle and Franklin Streets. After church they returned for Mrs. Lincoln then proceeded to Fillmore's house on Niagara Square for dinner. The Lincolns then returned to the American Hotel, which, because they largely had to themselves, afforded Willie and Tad and a son of the hotel owner the space to play leap frog, to which Lincoln joined in the fun. They had supper and then attended church services at St. James Hall on the south side of Eagle Street. Lincoln's party departed Buffalo, very early the following morning, at 5:45 a.m. for Albany, New York.
---

Local Community Contact: Theodore Roosevelt Inaugural National Historic Site
Phone: 716-884-0095
Webpage: https://www.nps.gov/thri/
Last updated: March 5, 2017