For Kids
Every Kid In A Park
Little Bighorn Battlefield National Monument welcomes 4th grade students "Every Kid In A Park". Visit the Every Kid in a Park website for more information on how your 4th grade student can help you explore more National Parks and Monuments.
Online Junior Ranger
Kids become a Junior Ranger online by clicking Junior WebRangers.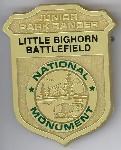 Little Bighorn Battlefield National Monument Junior Ranger
What is a junior ranger? How do you become a junior ranger?

It is a great way to explore, learn and have fun in the park. When you are a junior ranger, you can teach others how to care for and protect special places like this.
Learn about the Junior Ranger program at Little Bighorn Battle National Monument.

A Junior Ranger Attends:

Ranger programs
Completes workbook activities
Promises to take care of the Little Bighorn Battlefield National Monument


Last updated: May 12, 2022