Isaiah Dorman: The Only African American Killed at the Little Bighorn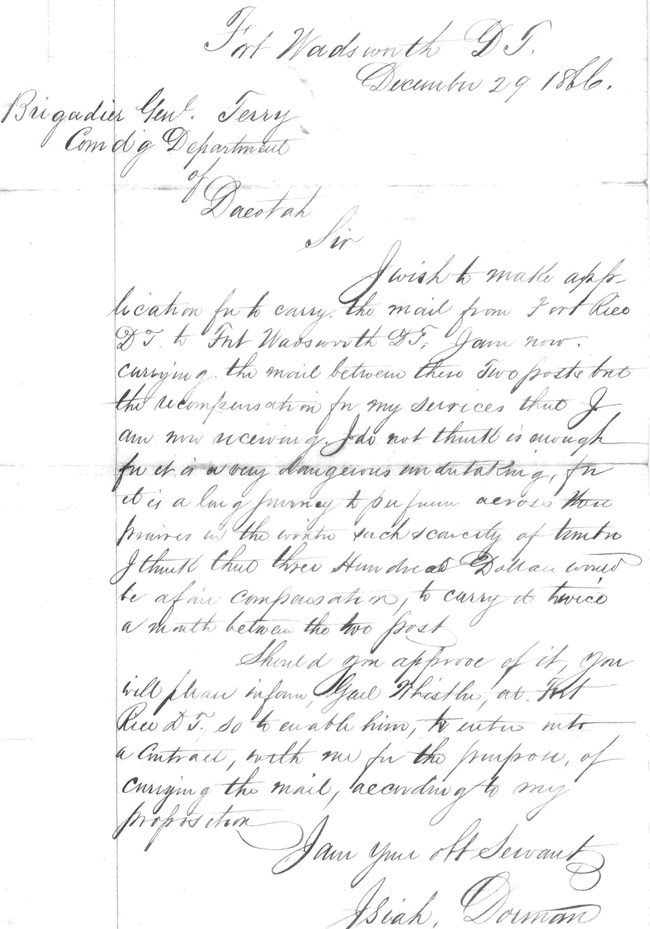 Isaiah Dorman was born free in 1832 in Water Street, Pennsylvania. Men who knew him noted his African and Native American heritage. Current research indicated that his father was African-Jamaican and mother African-Delaware.

In 1853, Dorman helped build Fort Ridgely in Minnesota Territory. He worked as a servant for Gen. Alfred Sully at Fort Kearny, Nebraska and then in Virginia during the Civil War. In 1864, Sully went to Dakota Territory to lead the Northwest Indian Expedition and Dorman continued to work as his servant until 1865.

Next, Dorman chopped wood for Durfee and Peck at Fort Pierre. He and his Dakota (Sioux) wife, Celeste St. Pierre, established their own wood lot and horse ranch on the upper Missouri River near Fort Rice. They sold wood to passing steamboats and horses to the Army. In 1866 and 1867 Dorman also delivered Army mail to Fort Wadsworth (360 miles roundtrip) and guided a Northern Pacific Railroad survey crew into Montana in 1871.

Col. Thomas Crittenden struggled to find a good interpreter and men to hire as Indian Scouts at Fort Rice. Some of the men he hired (and then fired) turned out to be whiskey traders. In October 1871, Crittenden hired sober and reliable Dorman as post interpreter. Dorman accurately translated English and Dakota and could read and write. Plus, his wife's Dakota friends and relatives signed on as scouts.

Some people confused Dorman with Peter Frank. The Dakota called both men Cetan Sapa (Black Hawk). Peter Frank married Dorman's sister-in-law. He also, like Dorman, worked as an interpreter. One hundred years later, a newspaper reporter wrote that Dorman came west as a runaway slave. He misidentified Dorman because it was Frank who had been a slave.

Letters written by Fort Rice officers showed that they trusted Dorman. They asked him to write the Indian Agent about rations for the Army's Indian Scouts. They involved him in legal matters (about horse thieves and a homicide.) The Quartermaster paid Dorman and two of his friends $2325 to build log cabins at Fort Rice for the scouts.

Capt. Frederick Benteen took command of Fort Rice in October 1875. Dorman's life changed for the worse because Benteen did not believe black men to be competent. For example, Benteen refused to hire Dakota scouts recommended by Dorman. Instead, Dorman had to perform a scout's duty and herd horses and cattle to Fort Abraham Lincoln. Lt. Col. George Custer needed them for the Yellowstone Expedition.

On May 14, 1876, Custer issued Special Order #2 which transferred Dorman to temporary duty as an expedition interpreter. Custer did not get along with Benteen, so he might have enjoyed the chance to hire Dorman away from him. For Dorman it meant he escaped Benteen's prejudice at Fort Rice. Also, he wanted to visit Montana again.

On June 25, Custer approached a large Indian village from one direction. Maj. Marcus Reno advanced from another direction. The guides, interpreters and scouts were with Reno. As civilians, they were not expected to fight. Dorman and guide "Lonesome Charley" Reynolds tried to follow Reno to higher ground. But they fell when their horses were shot. Dorman and Reynolds then provided covering fire for the soldiers.

In 1911, Pvt. Roman Rutten recalled that Dorman "was standing and firing into the Indians. . . As I went by him he shouted, Goodbye Rutten." A soldier who helped bury the dead saw Reynolds and Dorman "lying together as if they would not leave each other."

Pvt. William Slaper saw Dorman "with many arrows shot into his body and head, badly cut and slashed . . ." Pvt. Henry Jones wrote that the body "looked as though it went through a hash machine." Moving Robe Woman probably shot Dorman to exact revenge for her brother's death earlier in battle. Angry Lakota women pounded him with stone hammers.

However, one cut was a tribute from Dorman's wife's niece, Iron Antelope. She took a strip of skin to perform a death ceremony for Dorman. In 1932, a descendant of Iron Antelope gave the dried skin to a North Dakota museum for safekeeping. In 1950, the Bismarck Tribune reported the death of Dorman's grandson, Sam King. The article also noted that a piece of Dorman's skin was in a local museum's collection.

His family mourned him with a traditional funeral rite. Some Lakota and Cheyenne showed their respect for his bravery by counting coup. Others slaked their anger by killing him with gunshots and stone hammers. Frederick Gerard, a fellow interpreter, praised him as "a man of considerable intelligence . . . who enjoyed the respect and confidence of the soldiers." Today we remember Dorman as the only African American killed at the Little Bighorn.
BIBLIOGRAPHY
Lubetkin, M. John. Jay Cooke's Gamble: The Northern Pacific Railroad, the Sioux, and the Panic of 1873. Norman: University of Oklahoma Press, 2014, pp. 96‒100.

McConnell, Roland C. "Isaiah Dorman and the Custer Expedition," The Journal of Negro History 33 (1948): 344‒352.

Pengra, Lilah Morton. Isaiah Dorman: Interpreting the Evidence. Buffalo Gap, South Dakota: Lune House Publishing, 2017.

Sully, Langdon. No Tears for the General: The Life of Alfred Sully, 1821-1879. Palo Alto, California: American West Publishing Company, 1974, pp. 142‒143, 149, 155.

Last updated: March 17, 2023