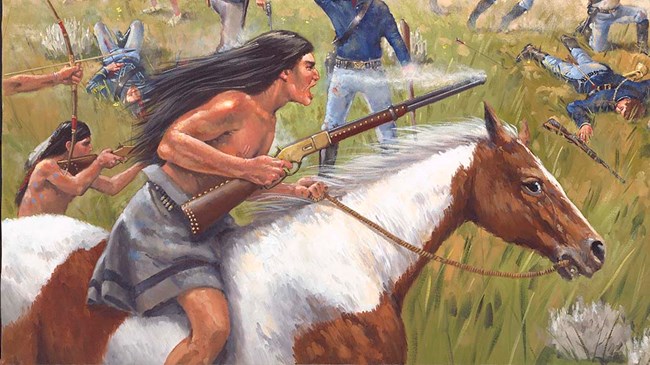 There are few North American Indian names that call forth more instant recognition than that of Crazy Horse. He ranks high among the great warriors of American History. If we seek to know the historical Crazy Horse we will find the trail clouded by myth and legend. Crazy Horse died on the evening of September 5th, 1877. Because his death occurred soon after the end of the Sioux War of 1876-1877, he was not interviewed by journalists or historians. His life story was not recorded. Other well known Western Sioux personalities lived many years after the conflicts were over so that the opportunity existed to record their biographies.

The date and location of Crazy Horse's birth is in dispute. 1838 to 1840 are frequently mentioned as the years of his birth. He was born in or near the Black Hills of South Dakota. His father, was called Crazy Horse and his mothers, name was Rattle Blanket Woman. They were members of the Oglala Band of the Lakota Sioux.

As a young boy Crazy Horse was known as Curley Hair. Later he was renamed Horse On Sight. During a battle with the Arapahoes the young Crazy Horse showed bravery in the fight. As a result Crazy Horse the father, passed on his name to his son in honor of his war deed. The father would be known there after as Worm.

Young Crazy Horse was raised in the traditional way of all Lakota boys. Games played an important part in their development toward adulthood. War and hunting games helped mold them into defenders and providers for their family and tribe.

During his teens Crazy Horse would have very likely been initiated into intertribal warfare with rival tribes who lived close to the Lakota Sioux. He may have been in a village that was attacked by an enemy tribe or been part of a war party or horse stealing foray. What ever it was that motivated him, he developed into one of the most accomplished warriors of the Lakota and perhaps of all the American Indian tribes. The horse was an important and necessary animal to Plains Indian culture. The nomadic lifestyle of these people relied on the horse for transportation and pursuit of game. When Lakota boys were young they were given a pony so that they could begin to master horsemanship. This skill would be vital to their later success as warriors and hunters. It is reported that Worm changed his son's name from Curly to Horse on Sight when Curly at age ten captured a wild horse.

Crazy Horse probably had his first contact with non indians, as a youth, when his band of Oglalas was visited by fur trappers and traders. It is very probable that he contacted non indians when visiting trading posts or forts such as Fort Laramie along the Oregon Trail. He would be present and participating in the series of events that led to the Sioux War of 1876-1877, including the Battle of The Little Bighorn. All of these events beginning with the Grattan Affair of 1854 would mark the escalating conflict between indians and non indians for possession of the Northern Plains. Crazy Horse would play a key role in these events.

Important to the formation of a Lakota warrior was the experience of a vision. Visions were seen as guiding spiritual events necessary to success in life. Preparation to seeking a vision began with a purification ceremony. The seeker would frequently go to a secluded place for several days. Fasting accompanied by prayers could lead the supplicant to have a vision.

Crazy Horse had a formative vision as a teenager. More is known of the content of the experience then where or when it happened. In the young Crazy Horse's vision, a man appeared to him on horseback. The mounted man rose out of a lake and as he approached Crazy Horse he was floating above the ground and his appearance was changing color. The man was dressed in very plain garments. In his long hair he wore a single Eagle feather and his face was not adorned with paint. A small stone was tied behind one of his ears. The Man's voice was heard but he was not speaking with his mouth. The man's instructions to Crazy Horse was that he was not to wear a war bonnet or to tie up his horse's tail, (tying up the tail was a common Lakota practice). Before going into battle Crazy Horse was to rub dust over his body. His death was not to come at the hands of an enemy or as the result of a bullet. He was never to take trophies.in battle. As the man in the vision was talking he was brushing off attacking enemies and riding through showers of arrows and bullets which never reached the floating man. People were holding the man back but he was able to free himself and move away. The man in the vision was caught in a violent storm and lightening appeared on his cheek and hailstones on his body. The man's people gathered about him after the storm subsided. A Hawks voice could be heard above the man as his people held him back; then the dream.

Crazy Horse never wore elaborate clothing. Instead of wearing a headdress he attached a single Eagle feather to his hair. When going into battle he painted a lightning symbol on his face and also carried a small stone tied to his upper body.

As Crazy Horse matured , his stature as a warrior grew. His reputation as a warrior was widely admired among the Lakota. Crazy Horse figured in many of the clashes resulting from the collision of the westward movement with American Indians as that movement advanced across the continent. His name was connected to the major campaigns of the U.S. Army against the Lakota; The Powder River Campaign of 1865, The Red Cloud War of 1866-1867, and The Sioux War of 1876-1877. In the Fetterman Fight (1866), The Battle of the Rosebud (1876), The Battle of the Little Bighorn (1876), and The Wolf Mountain Fight, he assumed a leading role.

Following the Battle of The Little Bighorn, the bands of Lakota and the Cheyenne who were present at the battle began to scatter. The Cavalry and Infantry commands fielded by the U.S. Army continued to track the dispersed bands, attempting to drive them back to the Great Sioux Reservation. Crazy Horse along with tribesmen eventually turned themselves over to the military authorities in May of 1877. Crazy Horse died in 1877, but he still seen as a mythic figure to the modern Sioux. Little is known of Crazy Horse's early years except that he was born near Rapid Creek on the eastern side of the Black Hills about 1840. There is no authenticated sketch or photograph of Crazy Horse, but he had been described as possessing fair skin with soft, light-colored hair. This young Oglala, whose mother was Spotted Tail's sister, played a decisive role in many battles with the United States Army. In 1854, along the Oregon Trail in Wyoming, a Brule' warrior had killed a cow belonging to a Mormon immigrant. When the immigrant complained to the army, 2nd Lieutenant John Grattan was sent from Fort Laramie with a small detachment to arrest the guilty individual. The situation exploded when Grattan's detail fired upon the people in the Lakota Sioux village. Conquering Bear, a chief, was fatally wounded. Warriors attacked Grattan's force, and killed every soldier within a few minutes. Crazy Horse, who observed this action, was influenced by what he saw; and it would affect his future actions. He signed no treaties, avoided the ways of the white men, and spurned reservation life.

By his mid-teens, Crazy Horse was a full-fledged warrior. His skills in battle made him much admired by the members of his own band. Crazy Horse frequently engaged in battle with U.S. Army forces, helping to defeat Captain Fetterman and his 80 men on December 21, 1866. Crazy Horse courted Red Cloud's niece, Black Buffalo Woman. While he was on a raid, another Oglala man who had also been courting Black Buffalo Woman returned to camp and took the girl as his wife. This incident created animosity between the two men that lasted until Crazy Horse's death.

On December 6, 1875 the Commissioner of Indian Affairs declared that all free roaming bands of Lakota Sioux must return to their reservation by January 31, 1876. Crazy Horse did not respond to this ultimatum, and joined in the resistance to the military enforcement of the ultimatum. On June 17, 1876, along with more than 1,200 warriors, Crazy Horse helped defeat General George Crook at the Battle of the Rosebud. Eight days later he helped defeat the 7th Cavalry at the Battle of the Little Bighorn.

Crazy Horse, who refused to go on a reservation or flee to Canada as others were doing, set up winter camp on the Tongue River in south-central Montana Territory. He attacked Colonel Nelson Miles' force on January 8, 1877 but was not successful in defeating the army. The relentless pursuit by the military, combined with the check at the Battle of Wolf Mountain, convinced Crazy Horse that surrender was inevitable. On May 7, 1877 Crazy Horse led 1,100 followers into Fort Robinson to surrender.

At Fort Robinson and the Red Cloud Agency, old rivalries and misunderstandings between military officers and various Lakota Sioux personalities, and Crazy Horse erupted into open animosity. Crazy Horse was to be arrested to prevent continued disruption, and in the ensuing scuffle, Crazy Horse was mortally stabbed. He died on the evening of September 5, 1877.