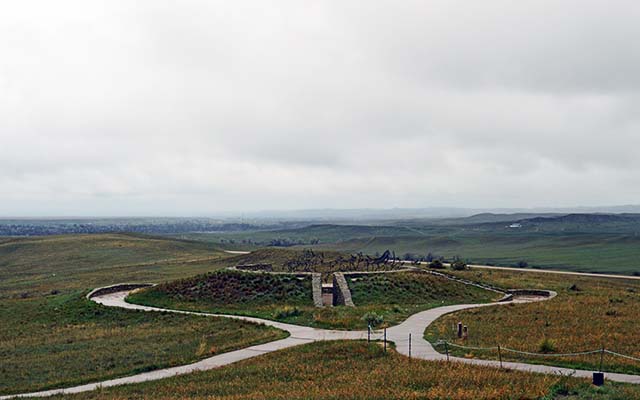 "If this memorial is to serve its total purpose, it must not only be a tribute to the dead; it must contain a message for the living...power through unity..."
Enos Poor Bear, Sr., Oglala Lakota Elder
Little Bighorn Battlefield National Monument near Crow Agency, Montana, commemorates one of America's most significant and famous battles, the Battle of the Little Bighorn. Here on June 25 and 26, 1876, two divergent cultures clashed in a life and death struggle.
Four hundred years of struggle between Euro-Americans and Native Americans culminated on this ground. Like a handful of battles in American history, the defeat of 12 companies of Seventh Cavalry by Lakota (Sioux), Cheyenne, and Arapaho warriors rose beyond its military significance to the level of myth. Thousands of books, magazine articles, performances in film and theater, paintings, and other artistic expressions have memorialized "Custer's Last Stand."
In 1879, the Little Bighorn Battlefield was designated a national cemetery administered by the War Department. In 1881, a memorial was erected on Last Stand Hill, over the mass grave of the Seventh Cavalry soldiers, U.S. Indian Scouts, and other personnel killed in battle. In 1940, jurisdiction of the battlefield was transferred to the National Park Service. These early interpretations were largely mono-cultural, honoring only the U.S. Army's perspective, with headstones marking where each fell.
Unlike Custer's command, the fallen Lakota and Cheyenne warriors were removed by their families, and "buried" in the Native American tradition, in teepees or tree-scaffolds nearby in the Little Bighorn Valley. The story of the battle from the Native American perspective was largely told through the oral tradition.