The Character of a Lake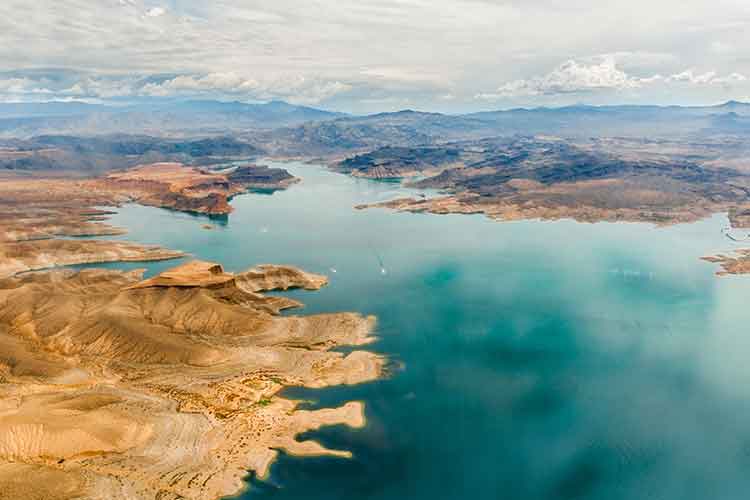 Lake Mead has various inlets and outlets.
Lake Mead and Lake Mohave are more than just large bodies of water. They are dynamic, ever-changing systems with specific characteristics that make them different than traditional lakes. Part of what makes them different is how water flows in and out of them, and scientists have just begun to understand their secrets.
---
Researchers have been studying lakes Mead and Mohave for decades to understand how water flows through the system, where mixing occurs, and how the lakes become layered. Knowing how they work and the hydrology of these lakes is the key to understanding how to manage such a dynamic ecosystem. Each tributary or inflow to Lake Mead has its own unique set of water characteristics such as temperature, conductivity, dissolved oxygen, and nutrients. Careful monitoring of these unique markers at different depths and locations around the lake over many years has given researchers a good understanding of how the waters mix in Lake Mead.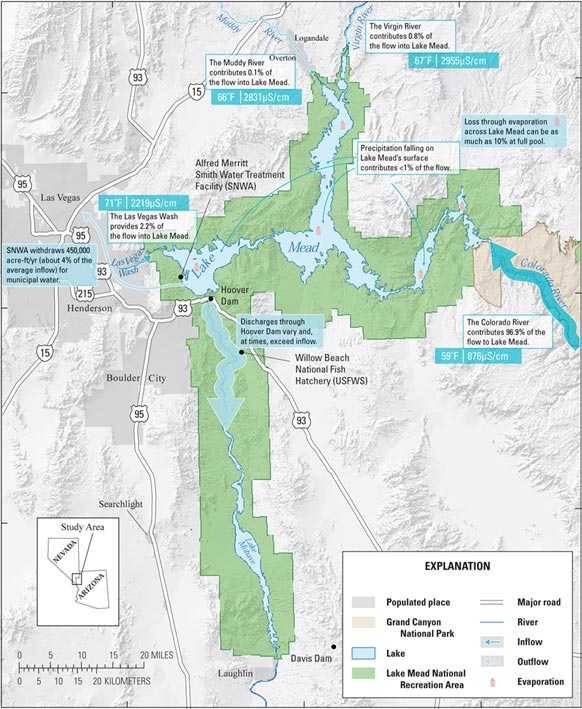 How water flows at Lake Mead.
It all begins as the Colorado River exits the Grand Canyon and winds its way into the Virgin Basin. From the surface it has essentially changed from a river to a lake, but deep underneath the river endures. From there, it continues west through the narrows of Boulder Canyon to fill Boulder Basin. The river continues to flow, hidden deep in the lake - moving westward.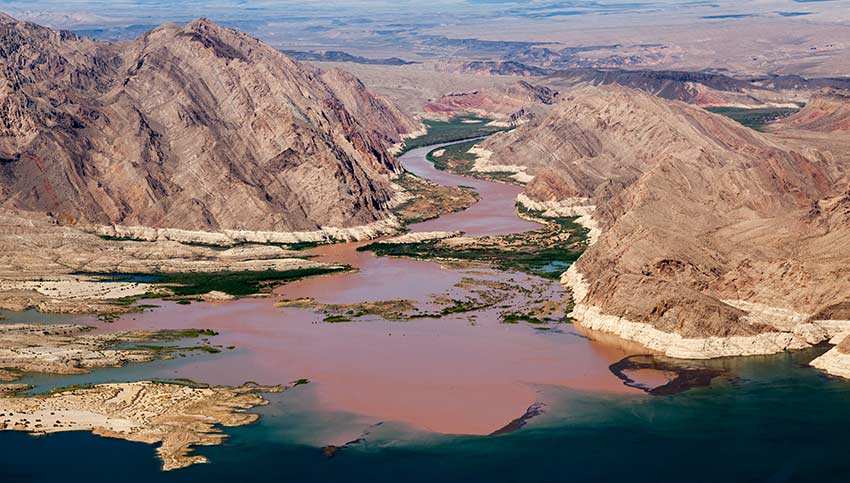 The Colorado River flows into the Virgin Basin and contributes 96.9% of Lake Mead's water.
From the north, the Virgin and Muddy Rivers also flow into the Virgin Basin. These waters contain not only sediment, but also nutrients from agriculture and nearby development.
The Colorado River continues to flow through the lake into the Boulder Basin, where it is met by warm, nutrient-rich water coming into Las Vegas Bay from the Las Vegas Wash. The composition of this water is so different from that of the lake that the two types of water don't immediately mix. The water from the wash will flow under or over the water it meets in the lake basin, depending on water and air temperatures, how muddy the water is and nutrient levels.
Hoover Dam releases water from below the lake surface into Black Canyon. This water is cold and clear; most of its sediment has settled out during its long journey across Lake Mead's basins. At first, the water moves swiftly past the narrow walls of Black Canyon but it slows as the canyon widens to form Lake Mohave. The main flow continues southward with side canyons filling and water slowing as it reaches the lake edges.
With a combined length of 180 miles and almost 1,000 miles of shoreline, Lake Mead and Lake Mohave are spectacular and dynamic ecosystems. Their unique personas and characteristics have kept researchers studying them and visitors enjoying them since they were created. Sites across these lake systems are routinely sampled for lake characteristics such as temperature, oxygen levels, conductivity and pH to try and better comprehend these systems. By studying these enigmatic systems, we ensure not only a better understanding of the ecosystem as a whole, but also a water system that is vital to millions of people in the West.

Last updated: June 25, 2019