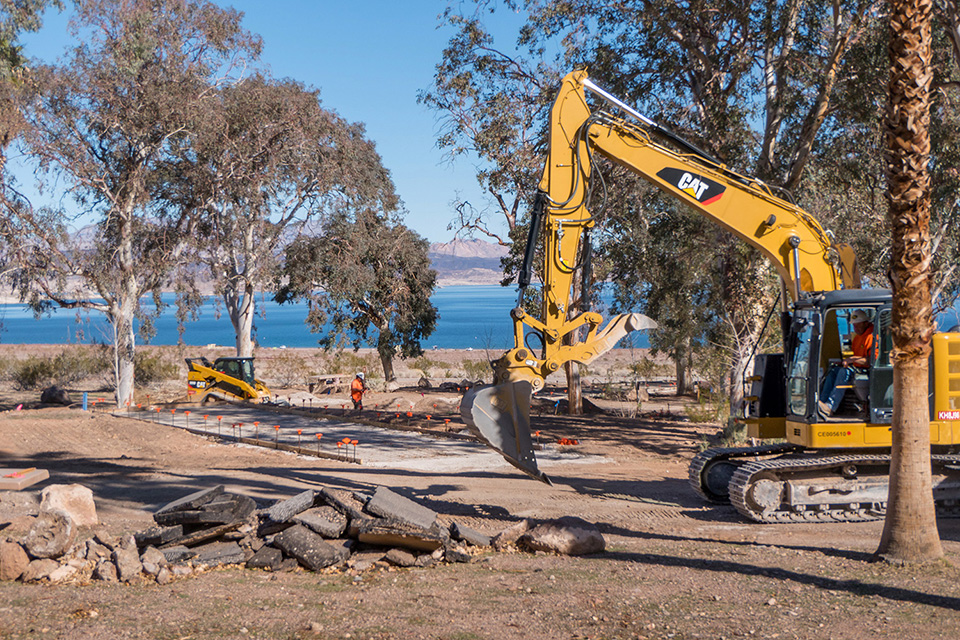 News Release Date:
April 13, 2018
National Park Service
U.S. Department of the Interior
LAKE MEAD NATIONAL RECREATION AREA News Release
For Immediate Release: April 13, 2018
Release No.: 2018-11
Contact: 702-293-8691
NATIONAL PARK SERVICE CHANGES ENTRANCE FEES TO ADDRESS INFRASTRUCTURE NEEDS, IMPROVE VISITOR EXPERIENCE
BOULDER CITY, Nevada – The National Park Service announced April 12 that 117 national park units, including Lake Mead National Recreation Area, will modify entrance fees to provide additional funding for infrastructure and maintenance needs to enhance the visitor experience.
 
Effective June 1, the entrance fees to Lake Mead National Recreation Area, which are valid for seven days, will be $25 per vehicle, $20 per motorcycle or $15 for bicyclists and pedestrians. An annual park pass will cost $45. Camping and vessel fees remain the same.
"Revenue from entrance fees has allowed us to address deferred maintenance and upgrade our campgrounds, extend our launch ramps and provide quality experiences for our visitors," said Lizette Richardson, park superintendent.
This spring, nearly $2 million in fee revenue was used to enhance the Boulder Beach Campground. The campsites were replaced with concrete pads that can accommodate modern-sized RVs. The picnic tables, fire rings, grills and sanitation station were also replaced, and multiple sites were made fully-accessible.
Over the past several years, more than $5 million in fee revenue has been used to extend launch ramps, allowing the park to maintain lake access during the prolonged drought.
Revenue

from entrance fees remains in the National Park Service and helps ensure a quality experience for all who visit. At Lake Mead National Recreation Area, at least 80 percent of entrance fees stay in the park and are devoted to spending that supports the visitor.

The other 20 percent is used servicewide to fund visitor enhancement programs and parks that don't collect fees.
The park plans to use future fee revenue to make additional improvements to its campgrounds and launch ramps while supporting other projects that have direct visitor benefit and improve the visitors' experience, such as repair and maintenance of facilities, capital improvements, enhanced amenities, resource protection and additional visitor programs and services.
The change is in response to public comments on a fee proposal released in October 2017. Rather than the higher peak-season fees initially proposed for 17 highly-visited national parks, there will be a modest increase for all entrance fee-charging parks.
National parks have experienced record breaking visitation, with more than 1.5 billion visitors in the last five years.
Throughout the country, the combination of an aging infrastructure and increased visitation has put a strain on park roads, bridges, campgrounds, waterlines, bathrooms and other visitor services and led to a $11.6 billion deferred maintenance backlog nationwide.
Lake Mead National Recreation Area has had an entrance fee since 2000. The current rates have been in effect since 2016. Entrance fees are not charged to persons under 16 years of age or holders of the America the Beautiful National Parks and Federal Recreational Senior, Access or Military Passes.
The America the Beautiful Pass, which is $80 per year, grants visitors access to more than 2,000 recreation areas managed by five federal agencies, including Lake Mead and Red Rock Canyon.

The Senior Pass is available to U.S. Citizens or permanent residents age 62 and over. It is a lifetime pass with a one-time charge of $80.

The U.S. Military Pass is a free annual pass available to current U.S. military members and their dependents.

The Access Pass is a free lifetime pass available for U.S. citizens or permanent residents with permanent disabilities.

People who volunteer 250 service hours with federal agencies may receive a free annual volunteer pass.
The park service continues to offer entrance fee-free days. The fee-free days for 2018 are April 21, Sept. 22 and Nov. 11.
The below table illustrates the changes in fee rates.
| | | | |
| --- | --- | --- | --- |
| Fee Type | Current Fee Rate | New Fee Rate | Validity Dates |
| Daily Vehicle | $ 20.00 | $ 25.00 | 1-7 Days |
| Daily Individual | $ 10.00 | $ 15.00 | 1-7 Days |
| Daily Motorcycle | $ 15.00 | $ 20.00 | 1-7 Days |
| Annual Vehicle | $ 40.00 | $ 45.00 | 12 Months |
Entrance fees collected by the National Park Service totaled $199.9 million in Fiscal Year 2016. The NPS estimates that once fully implemented, the new fee structure will increase annual entrance fee revenue by about $60 million.
 
Lake Mead National Recreation Area is one of 117 National Park Service sites that charge an entrance fee. The other 300 national parks, such as Tule Springs Fossil Beds National Monument, will remain free to enter.
 
-NPS-