News Release
#FindYourWay On One Of Lake Mead's Four National Trails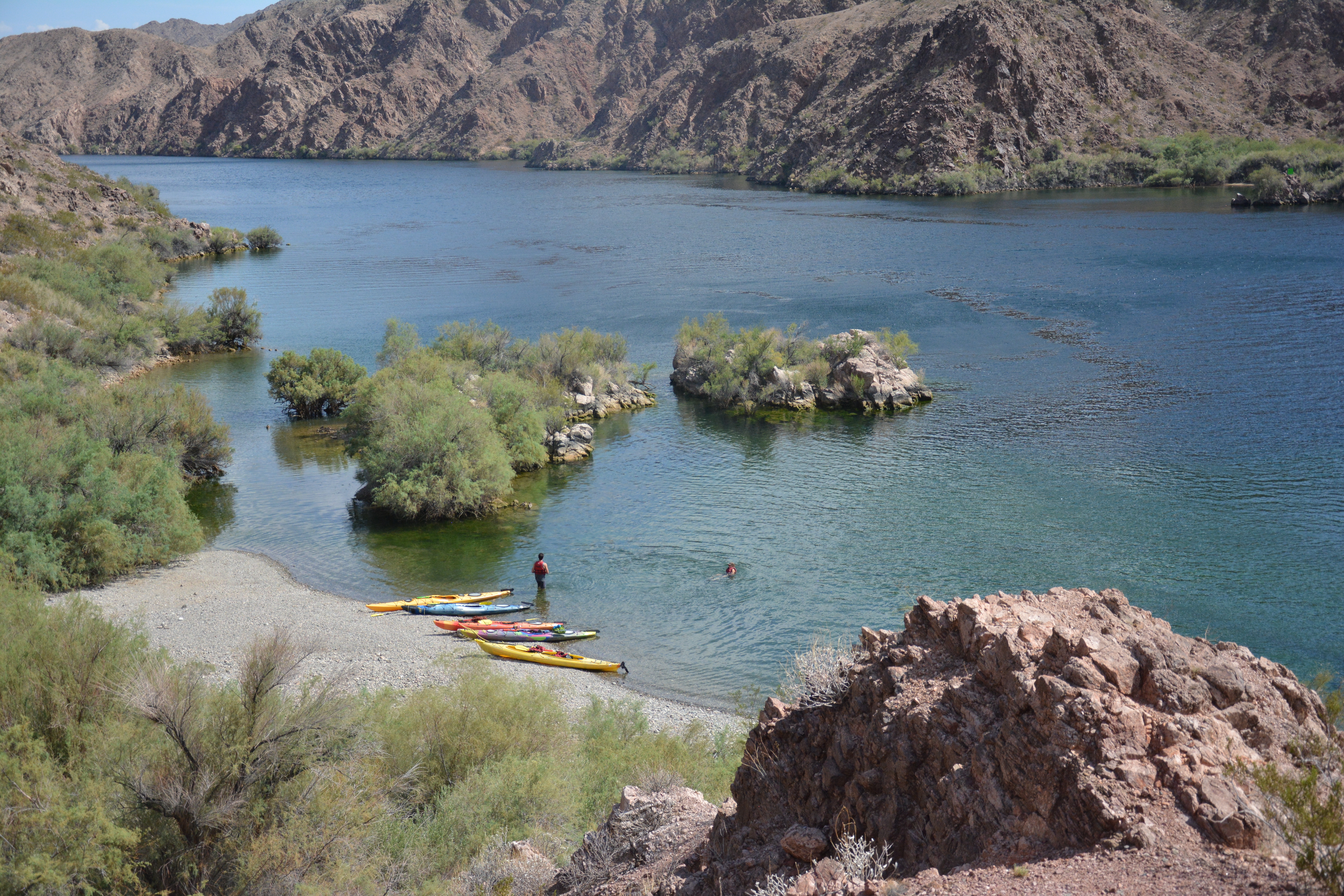 News Release Date:
October 2, 2018
National Park Service
U.S. Department of the Interior
LAKE MEAD NATIONAL RECREATION AREA News Release
For Immediate Release: October 2, 2018
Release No.: 2018-51
Contact: 702-293-8691
#FindYourWay On One Of Lake Mead's Four National Trails
BOULDER CITY, Nevada – On Oct. 2, 1968, President Lyndon B. Johnson signed the National Trails System Act, to preserve trails with outstanding scenic, recreational, historic and cultural characteristics.
Over the past 50 years, many trails across the nation have been added to the system, including four trails at Lake Mead National Recreation Area.
What makes the array of trails at Lake Mead so unique is their diversity. The park includes a water trail that flows through a steep canyon, a trail that travels through five huge tunnels, a trail paved and used for marathons and triathlons, and a trail used nearly two centuries ago by traders.
In celebration of the 50th anniversary of the national trails system, the park has released its second national trail virtual experience, focusing on the Black Canyon National Water Trail.
The Black Canyon National Water Trail
is a National Recreation Trail that follows the Colorado River through Black Canyon for approximately 30 miles, terminating at the historic mining town known as Eldorado Canyon.
It was established in 2014 as the first water trail in the Southwest and the only water trail to flow through a desert. The virtual experience, available at
https://bit.ly/2NiyGtA
,

shares a glimpse of the history, geology, wildlife and scenery that visitors can enjoy on the trail.
Because motorized boating is limited along this stretch of the river, it's a popular destination for kayakers. Numerous outfitters provide guided tours by paddlecraft or raft. The water trail can also be enjoyed at Willow Beach where there is a full-service marina with picnic areas, beaches and a fishing pier.
Learn more about the Black Canyon Water Trail at
www.lcrwatertrailalliance.com
.
The Historic Railroad Trail became a National Recreation Trail in 2015. The trail is an easy, accessible, dog-friendly hike along a former railroad grade. It provides panoramic views of Lake Mead, overlooking the Boulder Basin.
As hikers travel through five large tunnels, they will experience a portion of the railroad route that ran from Boulder City to Hoover Dam from 1931 to 1961.
A virtual experience of this trail was released in June and can be viewed at

www.nps.gov/lake/planyourvisit/hikerr.htm.

The video incorporates historic photos that tell the story of the railroad, the engineering challenges and the people who constructed it.
The River Mountains Loop Trail
was constructed through the combined effort of public and private partnerships and was designated as a National Recreation Trail in 2010.
The 34-mile paved trail surrounds the River Mountains, connecting Lake Mead, Hoover Dam, Henderson, Boulder City and Las Vegas. It includes multiple trailheads and is popular for marathons and triathlons.
More than 16 miles of the trail are within Lake Mead National Recreation Area. As visitors walk and bike within the park, they wind along the colorful desert with views of Lake Mead's bright blue waters and geology that transforms from purple to orange throughout the day.
Learn more about the River Mountains Loop Trail a

t https://rivermountainstrail.org.
The Old Spanish Trail is a 2,700-mile long trail that was used by traders traveling between New Mexico and Los Angeles. It was added to the National Historic Trail system in 2002.
In 1829, Mexican trader Antonio Armijo led the first commercial caravan along a route through what is now Lake Mead National Recreation Area. Sixty men and 100 pack mules traveled for 12 weeks to Mission San Gabriel in California, carrying woolen rugs and blankets to trade for horses and mules. The animals greatly reduced their return trip, which took around six weeks.
In 1831, another route, which travels through what is now Las Vegas, was established by William Wolfskill and George C. Yount. Trade continued along various routes until the late 1840s when wagon roads and rail routes became the new trade connectors to the west.
Learn more about the Old Spanish Trail at

www.nps.gov/olsp/index.htm.
With so many national trails to explore, the park is inviting visitors to #FindYourWay. For a list of the trails within the national trails system, visit

www.trails50.org.
-NPS-
Last updated: October 2, 2018