Overview of Lake Mohave

Lake Mohave is a reservoir on the Colorado River created in 1951 following the completion of Davis Dam near present-day Laughlin, Nevada, and Bullhead City, Arizona. Named for the Mohave Indians who previously inhabited this region of the Colorado River valley, Lake Mohave extends approximately 67 miles along the valley from Hoover Dam to Davis Dam straddling the southern Nevada and northwestern Arizona border, which follows the original river channel.
Formation of Lake Mohave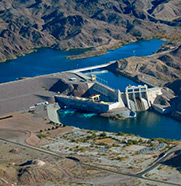 Construction of Davis Dam was a requirement of the 1944 Water Treaty with Mexico to regulate water released from Hoover Dam for delivery to Mexico. Lake Mohave is used for that purpose through integrated operations with Hoover Dam. In 1947, the area where Lake Mohave would form and surrounding lands were added by revision to the Memorandum of Agreement between the National Park Service and the U.S. Bureau of Reclamation for the previously designated "Boulder Dam Recreation Area," which in 1964 would become Lake Mead National Recreation Area. Lake Mohave provides a variety of recreational opportunities, including boating, fishing, and scuba diving. Three marinas with launch ramps are located on Lake Mohave, two in Arizona (Willow Beach and Katherine Landing) and one in Nevada (Cottonwood Cove). An additional launch ramp is located at Princess Cove on the Arizona side near Katherine Landing. Lake Mohave provides aquatic and riparian habitat for native fish and a variety of introduced game fish, desert wildlife and plants.
Both narrow and shallow compared to Lake Mead, Lake Mohave lies between the Black Mountains to the east in northwestern Arizona, and the Eldorado and Newberry Mountains to the west in southern Nevada. Most of the lake's length lies within the steep, narrow walls of Black, Eldorado, Painted, and Pyramid canyons. The northern section of the reservoir is constrained by the steep rock walls of Black Canyon for a length of 22 miles and is narrower than 300 ft in places. This portion of the reservoir is primarily riverine. South of Black Canyon, Lake Mohave gradually widens to nearly four miles in Cottonwood Basin. The transition between river and true reservoir conditions occurs in Eldorado Canyon, between Black Canyon and Cottonwood Basin.
View Lake Mohave Map
PDF (1.95mb)
Last updated: September 2, 2020