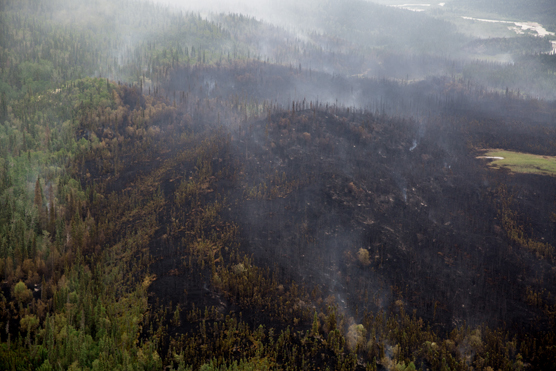 News Release Date:
June 27, 2013
Contact: Megan Richotte, 907-781-2135
Contact: Mary McBurney, 907-235-7891
Local residents reported seeing smoke at Currant Creek as a thunder and lightning storm moved over Lake Clark the evening of June 26. A National Park Service pilot mapped the wildfire following the storm and reported it to the State of Alaska Division of Forestry (DOF) the same evening. Initial estimates indicate the fire is approximately 300 acres and fifteen miles northeast of  Port Alsworth. Evening and morning observations by National Park Service pilots indicate rain fell on this site overnight.
The Currant Creek Fire is burning on the north side of Currant Creek. DOF based in McGrath is planning to send a fire observation aircraft to the fire today. Pilots should anticipate seeing smoke in the Currant Creek area and fire in the same valley.
Currently the fire does not pose a threat to values. Firefighters will take action if structures, natural or cultural resources are threatened. National Park Service and DOF fire managers will allow the fire to take its natural course for the health of the boreal forest. Information about the Currant Creek Fire will be posted at https://www.nps.gov/lacl/parkmgmt/currentfireinfo.htm. Check this web page periodically for updates.  
Kristin Creek Fire
The Kristin Creek Fire is located in the northwest corner of Lake Clark NP&P and has grown from five acres to 20,034 acres as of June 27. Visibility in the fires vicinity is poor. The fire has moved northeast around a private airstrip where four helitack firefighters are on the ground providing protection for the structures.  Eight smokejumpers are providing protection to private cabins at Bomhoff Lake about one mile from the fire.
Anticipate Smoke
Where there is fire, there is smoke. Visitors to the western side of the park should expect smoke. In addition to the Kristin Creek Fire, several fires burning outside the park also are contributing to smoke levels found in the Western side of the park. Fire and smoke are often part of Alaskan summers and park visitors and local residents can anticipate varying levels of wildfire smoke due to current and expected fire activity. Generally, worse conditions occur overnight and during the early morning hours, as the atmosphere cools and brings smoke to the surface. During the day, surface heating will mix smoke and carry it upwards, temporarily improving air quality.
For the latest information on wildfire smoke and air quality in your area, check the Alaska Department of Environmental Conservation Division of Air Quality website at http://dec.alaska.gov/AIR/smokemain.htm
Visit http://fire.ak.blm.gov/ for information about statewide wildfires, especially those near Lake Clark NPP.
For up-to-date information, maps and photos of Lake Clark wildfires, visit:https://www.nps.gov/laclparkmgmt/currentfireinfo.htm.