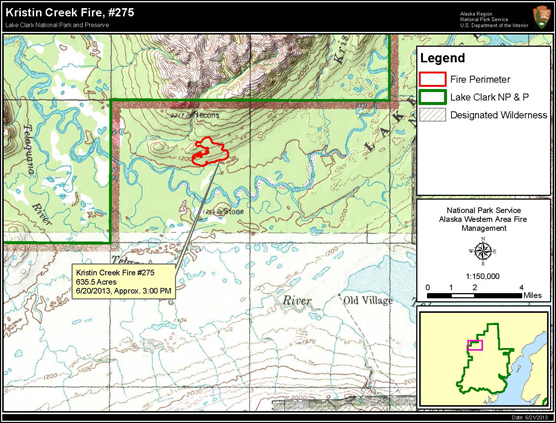 News Release Date:
June 21, 2013
Contact: Mary McBurney, (907) 602-2333
Contact: Megan Richotte, (907) 781-2135
Port Alsworth, Alaska – The Kristin Creek Fire continues to burn in Lake Clark National Park and Preserve and has grown from 5 acres, as reported on June 18, to 635 acres as of June 21 at approximately 3:00 p.m. The fire is currently staffed by four helitack firefighters who conducted structure protection measures, including laying hose lines and installing sprinkler systems, around several structures to provide protection if the wildfire changes direction. The eight smoke jumpers who initially responded to the fire have been demobilized and reassigned to other fires in the state.
State of Alaska Division of Forestry fire staff will be monitoring the situation closely throughout the weekend and allowing the fire to take its natural course for the health and benefit of the forest.
Everyone has a hand in a safe wildfire season and the fire danger in the northern portion of Lake Clark remains elevated. The Lake Clark Fire Management Officer encourages park visitors and area residents to be aware of the potential fire danger and extra cautious with anything that could start a wildfire.
For more information, a map and photos visit https://www.nps.gov/lacl/parkmgmt/currentfireinfo.htm.