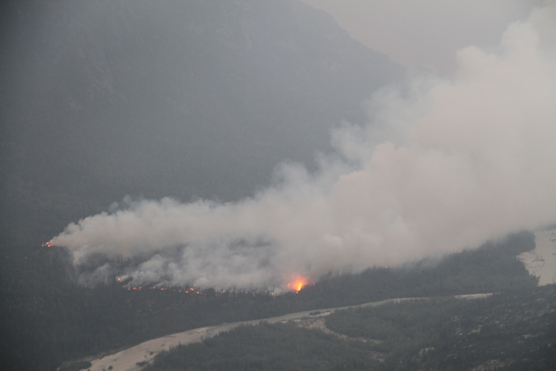 News Release Date:
July 1, 2013
Contact: Morgan Warthin, 907.644.3418
PORT ALSWORTH, Alaska: Sunday, June 30 a prominent column of smoke from the Currant Creek Fire was visible to pilots and Port Alsworth residents. The fire is 15 miles northeast of Port Alsworth and was reported initially by local residents June 26 after a thunderstorm.
Sunday morning, the State of Alaska Division of Forestry (DOF) monitored the fire and estimated it at 386 acres with 50 acres on the northwest fire perimeter actively burning. That day a ranger with Lake Clark National Park and Preserve reported strong winds from the east blowing smoke across Lake Clark. Park pilots flew the fire at 4 p.m. and reported that activity had increased significantly due to gusting winds. The fire size had also increased. By 7:30 that evening, winds died down and the fire became less active as rain showers moved into the area. 
At this time, the fire is not expected to cross south of Currant Creek and poses no immediate threat to residents or property. However, smoke may reduce visibility and air quality in the Port Alsworth area. DOF fire managers and park staff will continue to monitor the situation closely, map the fire's perimeter and watch for significant changes in activity. The Currant Creek Fire will be allowed to take its natural course for the health and benefit of the forest as long as there are no sensitive resources and/or life and property values at undue risk.  
Where there is fire, there is smoke. Fire and smoke are often part of Alaskan summers and park visitors, local residents and aviators can anticipate varying levels of wildfire smoke due to current and expected fire activity, winds and weather.  
For up-to-date Currant Creek Fire information, maps and photos visit: https://www.nps.gov/lacl/parkmgmt/currentfireinfo.htm.
-- NPS –