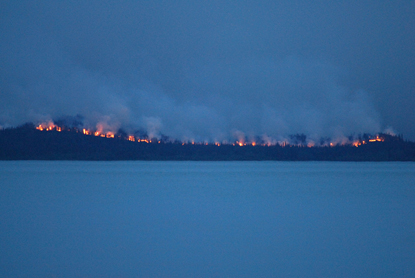 News Release Date:
July 15, 2013
Contact: Mary McBurney, 907.235.7891
Port Alsworth, Alaska – The State of Alaska Division of Forestry conducted an overflight of the Currant Creek Fire July 14 in the evening and reported that the west side of the fire was active and burning toward Lake Clark. Some isolated fire activity was also observed moving toward Currant Creek. The fire remains on the north side of the creek where it poses little threat to private property or sensitive resources. Fire managers anticipate that the section burning toward Lake Clark will reduce fuels that could flare into a larger blaze at a later date if strong winds start blowing down the valley.

Eight smokejumpers remain on the ground and have staged a water pump and hoses on the south side of the creek to put out any spot fires. They are monitoring the fire's activity and movement and are prepared to take action as necessary to keep the fire on the north side of Currant Creek. Rangers from Lake Clark National Park are providing logistic support for the smokejumpers and a jet boat is on site to ferry fuel, equipment and supplies.
The weather trend for the next several days is predicted to be cooler and moister with rain and showers in the forecast. Smoke will persist in the area indefinitely, so area residents, park visitors and aviatorsshould be prepared to deal with periods of diminished air quality and reduced visibility.Pilots are also advised of increased air traffic in the Currant Creek area with Division of Forestry helicopters and aircraft conducting aerial surveillance and fire support missions.
For the latest information on wildfire smoke and air quality in your area, check the Alaska Department of Environmental Conservation Division of Air Quality website at http://dec.alaska.gov/air/smokemain.htm.
For up-to-date Currant Creek Fire information, maps and photos visit: https://www.nps.gov/lacl/parkmgmt/currentfireinfo.htm