Pets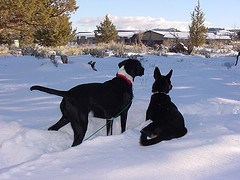 Protect Yourself, Your Pet, and Park Resources
Pets make wonderful companions. However, they are not always compatible with the dangers you can encounter in wild areas, or with the resource protection policies of national parks.
If you have already left home with your pet and wish to have fewer restrictions on your visit, several boarding facilities are available in Klamath Falls.
Dangers To You and Your Pet
The rocky terrain, thorny plants, snakes, and high temperatures at Lava Beds can harm your pet
Predators, including mountain lions, are curious about dogs and may approach your party when they otherwise may have passed you by
Impacts on Park Resources
Dogs are predators that may chase, frighten, and transmit diseases to wild animals
Wildlife can also transmit diseases, including bubonic plague, to pets and then to humans
The territorial scent dogs leave behind disrupts the behavior of native animals
If you do decide to bring your dog, please observe the following:
Pets must be kept on a six foot leash or in a vehicle or crate at all times. Leaving your pet in a closed vehicle in summer can be deadly!

You may bring your pet along in developed areas, but not on trails, in caves, or into buildings. Service animals are exempt from these restrictions, however, please use caution to protect yourself and your companion.

Pet waste must be immediately collected and disposed of in a trash can.
Last updated: November 14, 2016