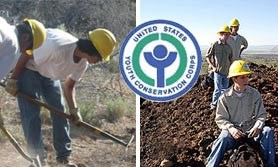 Youth Conservation Corps (YCC)
A great summer job for local high school - aged students at Lava Beds National Monument!
The YCC is a summer employment program for young men and women, ages 15-18, who work and learn together by participating in conservation work on public lands. The program is expected to begin on June 18, 2018 and run for 8 weeks.
YCC applicants must be in very good physical condition. This work can be fun, even adventurous, but it can also be strenuous and is performed in hot, rugged, dirty environments.
Planned work projects include exotic weed control, trail maintenance, native plant care, landscape restoration, and walkway and cave restoration. At the same time, YCC learn about the outdoors, first aid, wildlife, caving safety, and a variety of other subjects. It is fun, enriching, character-building hard work!
To learn more about the YCC program and get an application click here!
Applications for the YCC summer employment program must be post marked May 2, 2018, and mailed to Lava Beds National Monument, P.O. Box 1240, Tulelake, CA 96134 or e-mailed to nathan_charlton@nps.gov.

Preference will be given to youth the local communities of Tulelake, Merrill and Malin.
---