Places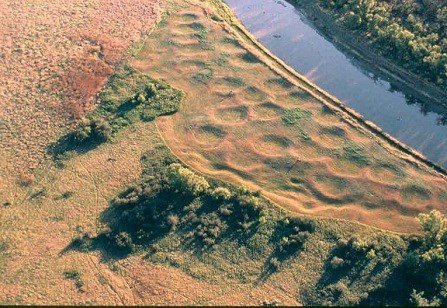 The Upper Missouri River Valley is a lifeline winding through a harsh land. Where the Knife River flows into the Missouri River, a diverse mix of rich wetlands, hardwood forest, and river bluffs stands in stark contrast to the endless miles of rolling prairie.
This diverse environment supported a sedentary agricultural lifestyle unique to the Northern Plains. Hidatsa women grew corn, beans, squash, and sunflowers in the river bottomlands while they built earthlodges on the high terraces overlooking the river. Hidatsa men hunted bison on the vast open prairie and collected fish from the rivers.
The center of Hidatsa life was the village. With clusters of earthlodges so close they almost touched, each village supported a distinct community with its own dialect and customs. The remains of three large Hidatsa villages are in the park: Awatixa Xi'e Village, Awatixa Village, and Hidatsa Village. The round earthlodge depressions and midden mounds at these sites only hint at the vibrant cultures that once flourished here.
Last updated: April 10, 2015