Places To Go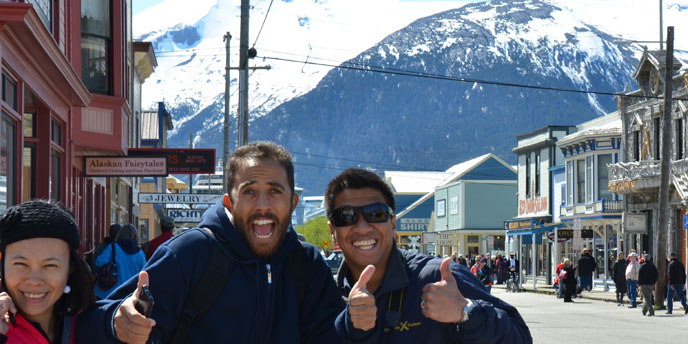 Skagway Historic District
With six blocks of designated National Historical District, downtown Skagway has fun for everyone! Whether your interest lies in visiting one of our three downtown museums or earning your junior ranger badge at our Junior Ranger Activity Center, the National Park Service has ensured Skagway remains a bustling port city reminiscent of its Gold Rush-era past.
Dyea
In nearby Dyea, visitors have the chance to experience the wonder of Southeast Alaskan outdoors while following in the footsteps of stampeders. This is a wonderful opportunity to take a ranger-led tour of the townsite, check out the local flowers and wildlife, or enjoy a picnic lunch on the Dyea flats.
Hiking
For visitors unable to make the trek to Dyea there are many options to explore the outdoors right outside Skagway. With hiking trails ranging from one to seven miles, Skagway has hikes for any fitness level. Our hiking trails give guests the opportunity to see waterfalls, historic graves, lakes and sweeping vistas of the Lynn Canal.
Campgrounds
The National Park Service operates a campground with 22 sites for vehicle and walk-in camping. The campground is situated 9 miles from Skagway near the beautiful Taiya River. Hikers on the Chilkoot Trail should use the campground for parking, the trailhead is a short ¼mi walk.
The Seattle Unit
The Klondike Gold Rush National Historical Park is made up of three units in Alaska and one in Seattle. Be sure to plan a visit to our sister park in Seattle, Washington to hear another side of the historic Gold Rush event.