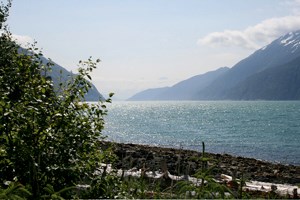 Sturgill's Landing
Time: 4 - 5 hours
Distance: 7 miles (11 km) round trip
Rating: Moderate
Elevation Gain: 500 ft. (150 m) twice!
Getting to the trailhead: Hike to Lower Dewey Lake. Turn right at the junctions sign and follow the trail to the south end of the lake.

Trail description: Follow the trail to the right (south) through a mixed stand of spruce, hemlock, and lodgepole pine. Just before reaching the stream, the trail splits. Follow the arrow sign to the right for great views and a rocky, but safer descent than the old trail that continues beyond the arrow sign. As you near the water, follow the trail to the right leading toward a picnic table and privy. From here, the trail continues south to the rocky beach. Remains of the sawmill can be seen across the creek.