Chilkoot Trail
From 1897-98, the Klondike Gold Rush transformed a traditional trade route into highway. Thousands of men, women, and children completed the journey from Dyea, Alaska to Lake Bennett, British Columbia. Today, the Chilkoot Trail is a 33 mile recreational trail. Each year, over 10,000 people day hike, backpack, or trail run this corridor. As they do, they pass hundreds of artifacts left behind by gold seekers.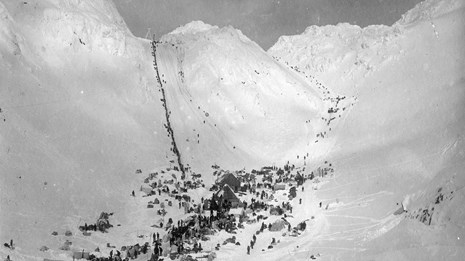 Chilkoot Trail History
From a Tlingit trade route, to a gold rush highway, to a modern recreation trail. Learn how the Chilkoot Trail has changed over 150 years.
Experience the Chilkoot Trail through photographs


Last updated: September 8, 2022