Campgrounds
Klondike Gold Rush National Historical Park has one frontcountry campground in Dyea about 9 miles from Skagway. There are four backcountry campgrounds on the US side of the Chilkoot Trail. There is no vehicle access to these sites. Register in advance or at the Trail Center to get a hiking permit before using a backcountry campground.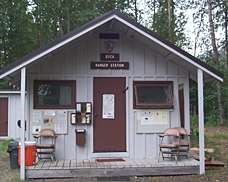 Dyea Campground
The Dyea Campground is located 9 miles from Skagway and .5 miles from the the Chilkoot trailhead. The campground is within a short drive or bike ride of the historic townsite of Dyea. (See Dyea Townsite Map)

The campground is monitored by National Park Service rangers and is open when free of snow. The campground provides 22 sites for vehicle and walk-in camping. Hook-ups are not available for recreational vehicles. Campers are advised to bring drinking water and firewood.
Facilities: Pit toilets, fire rings, picnic tables, and garbage receptacles are provided. Vehicles over 26 ft in length are prohibited on NPS Dyea roads including in the campground.
Fees: $10 per site per night. Self-registration at the campground entrance. First come, first served.
Cell Phone Additional Information
Internet Additional Information
Accessibility Information
Campgrounds on the Chilkoot Trail
The Dyea Campground is the park's only frontcountry campground.  For those adventurous enough to backpack into the park can explore four more campgrounds along the Chilkoot Trail.


Last updated: February 10, 2020