Border Crossing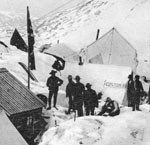 ****ATTENTION*******
Now in effect, Mexican nationals are required to present a visa to border officials when traveling to Canada. This requirement means that nationals from Mexico who want to travel to Canada will first need to apply for a temporary resident visa and meet the requirements to receive one. For more information, please contact: Media Relations Unit, Communications Branch, Citizenship and Immigration Canada; email: CIC-Media-Relations@cic.gc.ca

The Chilkoot Trail crosses the international boundary between the United States and Canada. Full compliance with the Western Hemisphere Travel Initiative goes into effect June 1st, 2009 and requires U.S. and Canadian citizens to present one of the following documents for entry into the United States by land or sea from Canada, Mexico, the Caribbean, or Bermuda.
US/Canadian Citizens: US Passport Card, Enhanced Driver's License, US or Canadian passport, or one of the Trusted Traveler Programs card issued by US Customs and Border Protection.
Landed Immigrants: Passport from their native country with U.S. Visa, if required.
Resident Aliens: Permanent Resident Card
Children: US and Canadian citizens under the age of 16, or under the age of 19 if traveling with a school, religious, or other youth group, may present a birth certificate, Consular Report of Birth Abroad, Canadian Citizenship Card, or a naturalization certificate. Birth certificates can be an original, photocopy, or certified copy.
if accompanied by both parents: birth certificate
if accompanied by one parent: birth certificate and notarized letter of authorization from absent parent
if neither parent is present: birth certificate and letter of authorization from parent/legal guardian
Other Nationalities: Passport (and Canadian and/or U.S. Visas, if required)
Northbound Hikers: All hikers traveling from the US into Canada must register at the Trail Center prior to starting their hike. All hikers must be present and have proper documentation for crossing the border. Please check directly with Canada Customs for up-to-date requirements. Trail Center staff will advise hikers about post hike reporting procedures at time of registration.
Southbound Hikers: Canadian and US citizens, and US resident aliens hiking from Canada into the US can register with Parks Canada in Whitehorse. All others must register at the Skagway US Customs and Border Protection Port of Entry (mile 6.8 on the South Klondike Highway) prior to commencing their hike. When registering, all party members must be present and have appropriate identification/documentation with them. You will be advised of post hike reporting requirements at the time of registration.
Questions? Inquiries about Customs and Immigration requirements should be directed to the appropriate Canadian and/or US Customs and Border Protection officials.
Canada Customs Whitehorse: 867-667-3943 www.cic.gc.ca
US Customs and Border Protection Skagway Port of Entry: 907-983-3144 or 907-983-2325.
www.uscis.gov


Last updated: April 14, 2015