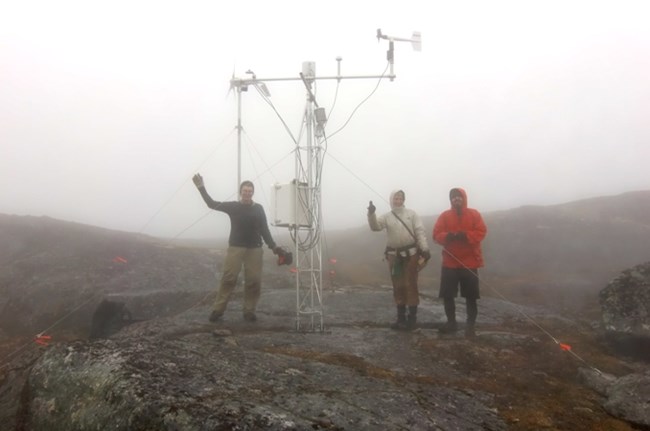 Talk of the weather has been a hot topic of discussion in Skagway, AK since the Klondike Gold Rush in 1897-98. The weather was one of the many struggles that stampeders contended with on their epic journey to the Klondike gold fields. People were so intrigued by the weather that they began to regularly record weather observations. These early recordings led to a long standing data set that spans more than 100 years. These observations have proven to be helpful to researchers who are currently studying the weather, climate, and global climate change.
The Southeast Alaska Inventory and Monitoring Network (SEAN) is collecting weather and climate data in an effort to continue this long term data set. Here at Klondike Gold Rush National Historical Park the program has placed a weather station on the Chilkoot Summit. This station, due to harsh winter weather, is active in the summer months only, However, SEAN collaborates with several organizations to collect weather information in other representative locations in Skagway, Dyea, and White Pass during the winter months. Plans are being made to install weather stations in Glacier Bay National Park and Preserve as well.
Explore the last 24 hours of weather from the stations at Dyea (Taiya River bridge), Sheep Camp, and Chilkoot Pass.
For more information visit the SEAN monitoring page.