Early Days of Football in Skagway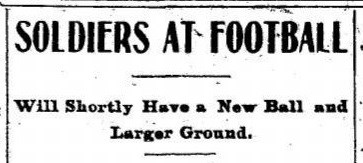 Recreation Expands
Baseball was by far the most popular sporting event in Skagway in the years following the gold rush. However, other pastimes arose first in this small town. One such game that gained popularity with spectators was football. A visitor today walking down Broadway may pass Sixth Avenue and notice it is wider than other side streets in Skagway. This is because Sixth Avenue was the original location of
Company L's
barracks. The barracks now sits on Broadway and is called the
Lynch and Kennedy
building.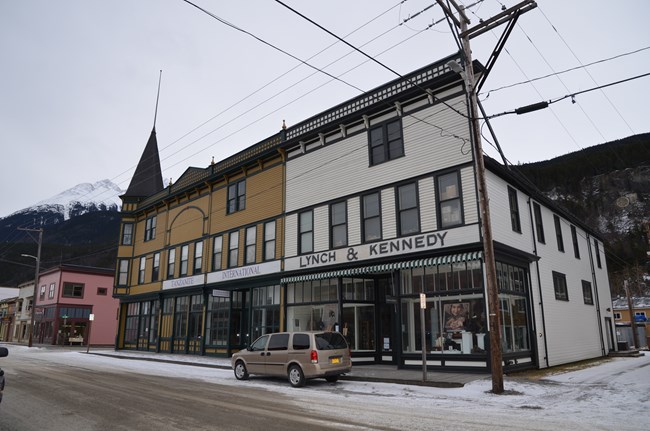 A Hit With the Crowd
After completing their barracks on Sixth Avenue some soldiers would take to the street in the evenings to play football. These informal games became quite the draw for spectators. There was even talk of forming two teams for regular games, both for enjoyment and betting opportunities. The crowds who came to view these games were described as laughter-filled and prone to loud bouts of applause. The spectators were so enthusiastic that the atmosphere was compared to that of a college game. Company L's commander, Captain Hovey, was so pleased with the response to the impromptu games he ordered a proper rugby ball for the soldiers. He even had the men grade the street and fill in the ditches around the block. This made for a more level and wider playing area. It was jokingly thought that this would not only allow more room to play, but there would "...not be so much danger to windows or noses of onlookers..."
Declining Coverage
Despite the initial popularity of the sport, there was little or no coverage of these football games. It was the start of organized sports in Skagway and opened the door for more entertainment to follow. By 1901 the whole town was abuzz with excitement over baseball and shooting competitions. Football appeared to have arrived in a flash and left with a whisper.
Last updated: September 13, 2017