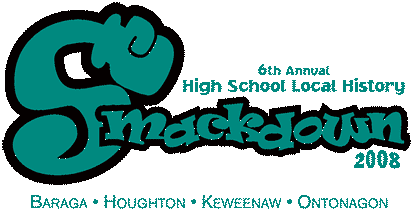 News Release Date:
April 14, 2008
Contact: Brian Hoduski, (906) 337-1207, ext 251
Contact: Kathleen Harter, (906) 337-1104, ext 230
Think you know local history? In 1844, a supply vessel sank at Copper Harbor during a September gale to become the Keweenaw's first shipwreck. Can you name the ship? Odds are that the students preparing for the sixth annual High School Local History Smackdown know that it was the John Jacob Astor. Which team will be the last one standing and take home the Smackdown trophy?
In this fast-paced competition, teams of high school students field questions about local history, geography, and geology. A panel of four judges weighs-in on answers that aren't clearly correct, but two wrong answers and teams are out of play. The last team standing takes home bragging rights as well as the traveling Smackdown trophy, which has found a home in several different area schools over the past six years. Keep score and cheer on the teams as they take center stage and face the Quizmaster.
The Smackdown will take place at the historic Calumet Theatre, 340 Sixth Street in Calumet, at 7:00 p.m. on Thursday April 24, 2008. The event is free and open to the public.
The Smackdown is part of the Fourth Thursday in History series, which arranges public presentations on important aspects of Copper Country and regional history, including techniques for historic preservation. Presentations are scheduled in venues throughout the Keweenaw Peninsula, particularly at historic sites associated with specific topics. Additional support for the Smackdown is being provided by the Calumet Theatre, Range Bank, Pat's Foods & Festival Foods, River Valley State Bank, Keweenaw Memorial Medical Center and Homestead Graphics.
For further information, including specific directions to this event, contact Keweenaw National Historical Park at (906) 337-3168.