Canceled: High School Local History Smackdown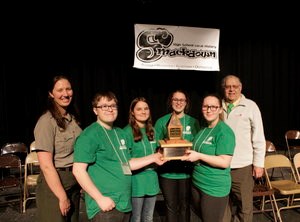 Attention: High School Local History Smackdown - 2020 Event Canceled

Due to the ongoing COVID-19 and in accordance with CDC and state and local public health authorities, the Smackdown event is canceled. The event was to be held at the Calumet Theatre on April 23, 2020 and will not be rescheduled for a later date. We acknowledge the hard work of the student teams and their coaches as they prepared for this event in the past weeks and months.

What is the Smackdown?
The Smackdown is a test of knowledge that is similar in format to a spelling bee. Teams of up to four students are asked short answer questions about local history, geography and geology. The questions increase in difficulty as the rounds progress.
This year, the Smackdown will take place at the historic Calumet Theatre, where the teams will appear on the same stage that showcased the talent of yesteryear, on Thursday, April 23 at 7:00pm.
Who can participate?
Teams of up to four students from Houghton, Keweenaw, Ontonagon and Baraga Counties are welcome to compete. Schools are welcome to send more than one team. Family, friends and other well-wishers are welcome to come and watch and to cheer for their teams.
How should my school's teams prepare?
Begin by completing the entry form and returning it to the park in plenty of time to assure your spot on stage. All registration forms must be received by Friday, April 3.
Preparation for the Smackdown can be as formal as organized coaching by a teacher or parent after school, or as informal as students studying on their own time. All the materials needed for preparation have been provided free of charge to school libraries in past years. If you have questions about materials, or if this is your first year participating in the Smackdown, please feel free to contact the park for information.
How do students benefit from the Smackdown?
Students who devote time preparing for and participating in the Smackdown learn about local history, geology and geography. Even if your school's team does not win, participation in such events is likely to result in a range of benefits:
Reinforced learning: The questions are reviewed to ensure their alignment with Michigan and National History Standards. This learning process is likely to enhance memory and allow students to develop better learning skills, which can be highly beneficial in a number of settings.
Increased cognitive skills: Events like the Smackdown allow students to develop a range of cognitive skills including the ability to handle pressure, and to think clearly in stressful situations.
Confidence: Events such as the Smackdown can boost a student's confidence level. Participation in the game helps them develop the confidence they need to speak in public; to calmly accept their mistakes and move on; to work as a team, and to enjoy the applause earned through the demonstration of their skill.
Enjoyment: Like all games, the Smackdown is dedicated not only to learning but to fun for all.
School Pride: Students who may not have the aptitude to bring home an athletic award for their school have the opportunity to become part of a school team and demonstrate their own school pride.
Prizes and other mementos: Nobody goes home empty handed. Students all receive a variety of items just for participating, and prizes up to and including scholarship funds for the winning team.
Use these resources to learn more about and prepare for the Smackdown competition:
List of Topics and Resources
Sample Questions
Student Guide
Coaches Guide
Competition Rules
Last updated: April 2, 2020