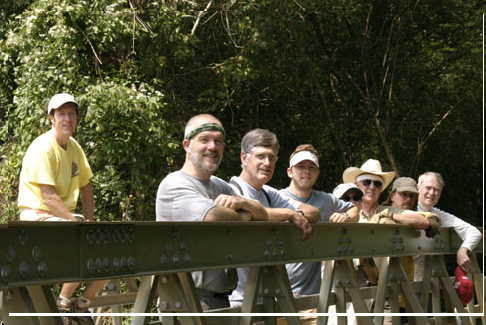 News Release Date:
August 27, 2007
Kennesaw Mountain Trail

Club Volunteers Complete

New Bridge
On Sunday, August 19, 2007, volunteers from the non-profit Kennesaw Mountain Trail Club successfully completed a new bridge over John Ward Creek within Kennesaw Mountain National Battlefield Park, a project that was more than a year in the making. As part of a Challenge Cost Share grant, the club agreed to provide an equivalent amount of in-kind service to prepare the site, install the bridge, maintain the trail approaches, and rehabilitate the area of the previous boardwalk back to nature.
The 60 foot long by 6 foot wide wood and fiberglass structure was manufactured by E.T. Tectonics of Pennsylvania. The new bridge is stronger, more durable, more weather resistant, and capable of carrying equestrian and pedestrian traffic.
This project is the first major project undertaken by the fledgling Kennesaw Mountain Trail Club. Since it's founding in the fall of 2002, the club has donated more than 10,000 hours of volunteer service working on the trails at Kennesaw Mountain National Battlefield Park, coordinated more than 20 Eagle Scout projects, and trained more than a dozen crew leaders in the current best practices in trail design, construction, and maintenance methods.