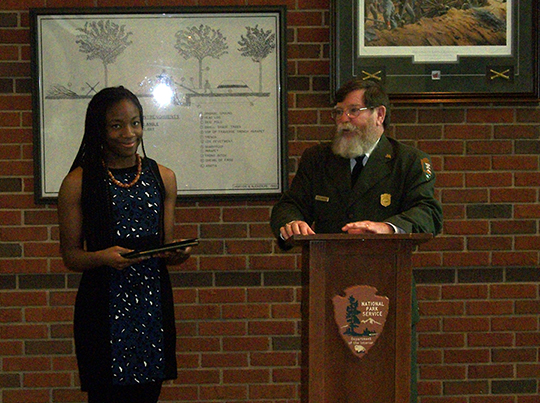 News Release Date:
May 3, 2013
Contact: Amanda Corman, 770-427-4686
On Saturday, April 27, 2013, Kennesaw Mountain High School senior, Afoma Okoye, was presented with the first place Expressions of Freedom award for poetry at the Kennesaw Mountain National Battlefield Park. Ms. Okoye's poem reflecting "What does freedom mean to you?" was selected from more than 250 submissions. As part of her award, Ms. Okoye received a $2,500 academic scholarship, an America the Beautiful - National Parks and Federal Recreational Lands Pass and will be featured on the National Park Service and the African American Experience Fund's websites.
The Expressions of Freedom art contest was held to commemorate the 150th anniversary of the Emancipation Proclamation. The National Park Service, in partnership with the National Park Foundation's African American Experience Fund, challenged teens across the country to explore the question, "What does freedom mean to you?" through photography, film, and poetry. The Expressions of Freedom art contest was designed to connect student artist to the significance of the American Civil War, the Emancipation Proclamation, and the system of national parks that commemorate events associated with the Civil War and the Civil Rights Movement.