Volunteers Needed for Exit Glacier Community Weed Pull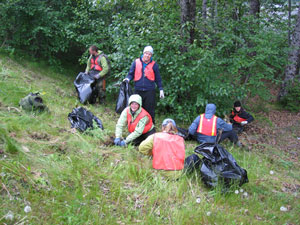 News Release Date:
June 11, 2012
Contact: Travis Fulton, 907-422-0550
Invasive Plants Beware­-the annual Exit Glacier Community Weed Pull is fast approaching. On June 21, 2012, a crew of volunteers and staff from Kenai Fjords National Park, Chugach National Forest, and Resurrection Bay Conservation Alliance will team up to help pull weeds along the road to Exit Glacier.
Invasive plants like oxeye daisy, white sweetclover and bird vetch, will take over moraines and roadsides if left unchecked, and threaten habitat for moose, salmon, and other wildlife. Alaska is one of the only places in the world where we can stop the threat of invasive plants now, which makes it even more important to work together to stop weed invasions right away.
All are welcome-extra hands are always needed to help pull invasive plants and keep our corner of Alaska wild and free from weeds. The event will run from 10am to 3pm, but come when you can and leave when you need to. Volunteers should meet at the Forest Service pullout on the road to Exit Glacier at mile 4. Bring lunch, water, gloves, and weather-appropriate clothing.
For more information, contact Kenai Fjords National Park Exotic Plants Management team leader Travis Fulton at 907-422-0550.
Last updated: April 14, 2015