National Park Service Plans for Downtown Seward Facilities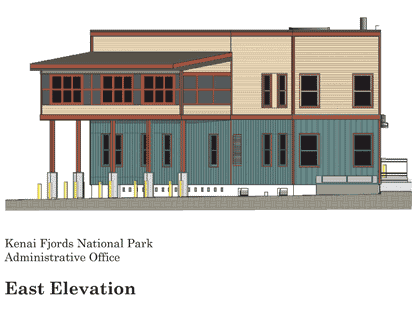 News Release Date:
April 16, 2012
Contact: Jeff Mow, (907) 442-0500
Kenai Fjords National Park will be working to finalize plans for limited development in the downtown Seward area. The National Park Service (NPS) owns five properties in the downtown area, purchased in 2005 as directed by Congress during the development of the Mary Lowell Center, a multi-agency facility that would have provided administrative offices for two agencies, visitor facilities, and a small conference center for the City of Seward. Insufficient funds are available to complete the full suite of projects.
Over the last year, the National Park Service has been working on a plan to use the funds remaining from that effort in a manner that provides for downtown improvement, secures administrative facilities for the park operation, and relinquishes several of the parcels that were purchased for the project. The current project will rehabilitate the Old Solly's building on Washington Street and the Shea Block building on 3rd Avenue for administrative uses. The Old Solly's building will become the park's new headquarters and will include a small visitor area for winter and shoulder season visitors to Seward. The area adjacent to the Shea Block Building will be used for parking. The exterior appearance of the Old Solly's building will be in keeping with its historic appearance with a mix of siding and paint finishes (see illustration). Rehabilitation work on the Old Solly's building should commence by late summer, followed by rehabilitation work on the Shea property in subsequent years.
The remaining properties purchased in 2005 by the NPS (Mai and Harbor Dinner Club properties on Fifth, and the Legends property on Washington) may undergo some redevelopment or be excessed (disposed of) by the federal government. Since 2005 the building known as Legends has been operated by the NPS and used by many community organizations and agencies for public meetings and workshops. According to Superintendent Jeff Mow, "We expect it could take a year or longer before the government could transfer ownership of the property." Generally, the process gives preference to other federal, state, and local government needs before considering private uses.
Last updated: April 14, 2015