Distance Learning Program Earns Pinnacle Award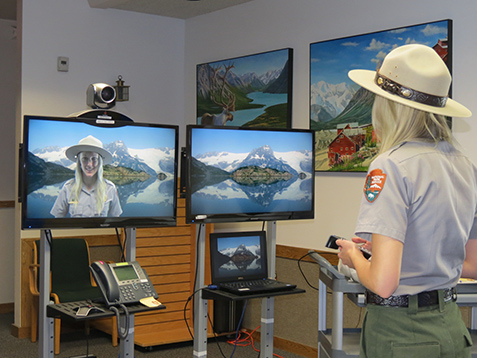 News Release Date:
August 24, 2015
Contact: Kristy Sholly, (907)422-0530
Kenai Fjords National Park recently earned a coveted Pinnacle Award for the 2014-2015 school year from the Center for Interactive Learning and Collaboration (CILC) for their newly established distance learning program. CILC is recognized nationally and internationally as the leader in content aggregation, consulting, and support services that assist organizations with the utilization of videoconferencing and other collaborative technologies.
The Pinnacle Award is given annually, by the CILC, to organizations that receive outstanding scores on program evaluations submitted by educators and end users. Receiving the award indicates remarkable quality of educational content and exceptional skill at program delivery. 
"The Pinnacle Award is highly regarded by providers as it is an objective measure of their ability to meet the needs of students of all ages. CILC is gratified to see the growing ranks of Pinnacle awardees year after year." Jan Zanetis, CILC Managing Director. 
"Content providers always welcome feedback on their programs. The CILC Pinnacle Award is a way for educators to let providers know that they're doing a great job!" Darin Trobaugh, Alaska Sealife Center Education Specialist The Pinnacle Award was first awarded in 2008 and has become a CILC tradition. 
Last updated: August 24, 2015