New Junior Ranger Programs Offered at Kenai Fjords National Park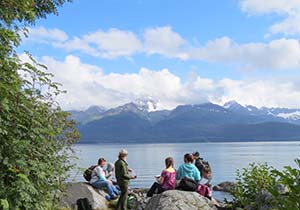 News Release Date:
June 3, 2013
Contact: CJ Rea, (907) 422-0531
Kenai Fjords National Park will introduce two new Junior Ranger programs this summer! In addition to boat trips into the fjords, now young people can gain an appreciation for the complexities of fjord ecosystems by exploring Seward's beachfront and intertidal zone with a park ranger. Children, who have already earned their Junior Ranger badge, can go on to earn their Fjord Junior Ranger patch by participating in this new program. Junior Rangers will have the chance to test salinity, tow for plankton, and learn about the importance of Resurrection Bay as a fjord estuary ecosystem.
The Fjord Junior Ranger program will run from 1-2:30pm each Saturday from June 8th through August 10th.Interested participants should meet at the Kenai Fjords National Park Information Center in Seward's small boat harbor. This free program is best suited for 8 to 12 year olds, but all ages are welcome.All children must be accompanied by a parent or guardian over the age of 18 for the entirety of the program.
The second program allows Junior Rangers to earn their Glacier Junior Ranger patch.This ongoing, self-led program is best suited to Junior Rangers 6-12 years old. Families should check in at the Exit Glacier Nature Center during hours of operation, 9:00 am-8:00 pm, from May 25-September 6. The glacier patch program challenges students to explore Exit Glacier for the things that interest them in nature.This can be anything from animal tracks to signs that a glacier has influenced the landscape.
Locals and visitors are welcome to join park staff for these interactive programs.Both programs are available to Junior Rangers who have completed their Junior Ranger badge requirements.Junior Rangers will receive a patch with a black bear for completing the Glacier Junior Ranger program and a patch with a Dall's porpoise for completing the Fjord Junior Ranger program.These two programs were inspired by Michelle Obama's Let's Move Outside initiative.
Questions about the programs can be directed to e-mail usor 907-422-0531.
Last updated: April 14, 2015