Kenai Fjords in the Field Summer 2015 Edition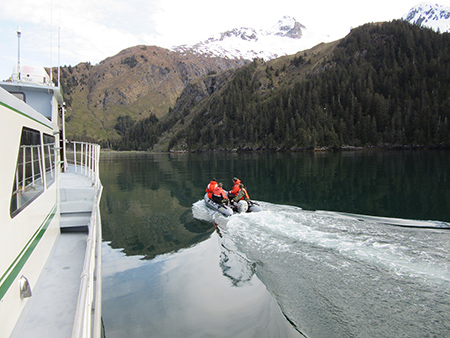 News Release Date:
August 12, 2015
Contact: Sharon Kim, (907)422-0546
If you are wondering what the biologists, physical scientists, and archeologists at Kenai Fjords National Park do in the summertime, come read our park blog at https://www.nps.gov/kefj/blogs/kenai-fjords-in-the-field-2015.htm. On our blog, we share experiences, photos, and even videos about our field projects. You can learn about how we deal with the unpredictable weather and rugged field conditions. Unlike more formal reports and papers, our blogs show the day-to-day side of what being in the field at Kenai Fjords National Park is like. It also gives you a smorgasbord of different projects happening in our division ranging from glacier monitoring and invasive plant removals to bald eagle surveys and archeology.
We hope that you enjoy our posts and give us some comments!
Last updated: August 14, 2015