Something to Talk About: Facilitated Dialogue at Kenai Fjords National Park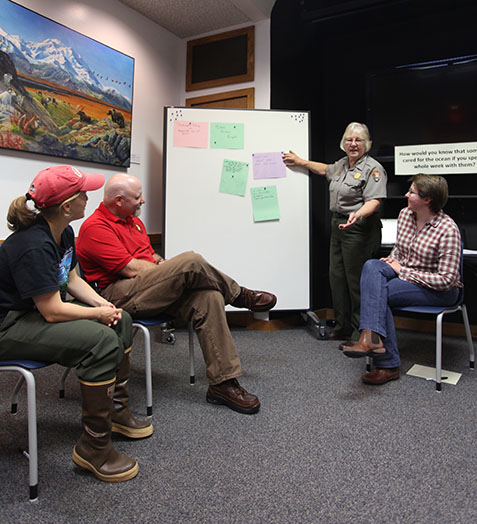 News Release Date:
July 28, 2015
Contact: Kristy Sholly, (907)422-0530
Visitors are talking. There is a new interpretive program in town that is engaging visitors ina new way and allowing them to share their experiences with the ocean and oceanissues.The first program, titled Our Role in Ocean Stewardship: A FacilitatedDialogue, launched on Friday, June 19, 2015.The program uses several dialogic techniquesto engage participants in a meaningful conversation about the mutual influencebetween people and the ocean and societies role in ocean stewardship.Programs are held on Fridays and Saturdays at4:00 p.m. in the park's visitor center located at 1212 4th Avenue inthe Seward harbor.
In September 2014, the park hosted the first FacilitatedDialogue training program in Alaska.Theworkshop was led by Harpers Ferry Center training specialists and theInternational Coalition of Sites of Conscience (ICSC) Senior Director ofMethodology and Practice.Interpretiveprofessionals from nearly every park site in the region attended the five-dayworkshop that explored audience-centered interpretation as a new way of gettingpeople civically engaged in issues facing our world.Participants developed their own programs ontopics including: wilderness, climate change, ocean issues, and culturalhistory and presented to the larger group.
Following the September workshop, the park's Education teamdeveloped a marine debris facilitated dialogue arc to engage high school andcollege level students.The program wasdelivered throughout the winter and spring in classrooms and through distancelearning technology.In March 2015, theprogram was shared with SCA/NPS Academy students learning about careeropportunities in the National Park Service. The program helped to highlight the work of Interpretation to engagevisitors in civic dialogue and provided them with ideas on how they could helpwith marine debris issues on beaches throughout Alaska.
In May 2015, Kenai Fjords was the first site to pilot ashortened Facilitated Dialogue workshop for seasonal staff.The one day course kicked off by engagingtrainees as participants in the Our Rolein Ocean Stewardship dialogue.Afterexperiencing a facilitated dialogue first hand, the students engaged in ahalf-day video teleconference with the ICSC Senior Director of Methodology andPractice to learn how to create an arc of dialogue to elicit meaningfulconversations amongst visitors.In theafternoon, trainees practiced dialogic techniques and worked together topractice creating their own arcs.
Facilitated dialogue, by co-developing programs with theaudience, provides opportunities for all to participate and is a great way tolead the National Park Service into the 2nd century of service! Join us beforeour facilitated dialogue programs end on August 8, 2015.
Last updated: July 28, 2015