Improved Fuel Cell Installed in Exit Glacier Nature Center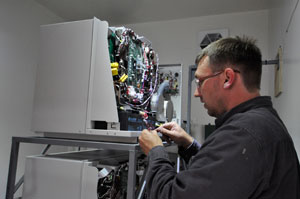 News Release Date:
June 3, 2012
Contact: Kristy Sholly, 907-422-0530
Technicians have been busy this past week installing a brand new fuel cell at the Exit Glacier Nature Center in Kenai Fjords National Park. The fuel cell, which runs off of propane, will provide 1 kilowatt of power for all of the center's electrical needs including lights, outlets, and other basic appliances. A team at Acumentrics Holding Corporation developed the fuel cell which converts chemical energy in fuels to electric power through an electrochemical process. This generates electrical power at a much higher efficiency than burning fuel in a traditional reciprocating engine generator.
"The main advantage for using fuel cell over other technologies is the efficiency" according to Tom Ollila, Business Development Director for Acumentrics.  "Our product uses the same propane fuel that an engine generator would, but because we're using a straight electrochemical process to convert the energy in the fuel to electric power directly, rather than powering an engine where most of the energy is wasted in friction and heat, you're really squeezing most of the energy out of the fuel."
This is not the first fuel cell that has been used to meet the Exit Glacier Nature Center's "off the grid" energy needs. In fact, Acumentrics has installed a series of increasingly sophisticated fuel cells in the Nature Center since 2003. The earlier fuel cells were all developmental prototypes, but this year, the building is being equipped with a commercial product, the RP20, that is also being marketed to other remote power customers, such as the telecommunications industry. According to Acumentrics, switching from a traditional generator to the RP 20 can reduce a user's CO2 emissions by up to 50 tons a year, the equivalent of removing 10 cars from the road.
"We've benefitted from the opportunity to use the park service center as a trial unit because you can only learn so much in the lab. You learn so much more valuable lessons when a customer is really using the product to do something significant," Ollila said.
The fuel cell is installed in a room with a window in the door so that visitors to the nature center can see it. New interpretive displays at the center explain how fuel cell technology works and describe other alternative energy efforts.
Last updated: April 14, 2015