Early Season Conditions Persist in the Exit Glacier Area
Date:
May 23, 2012
Contact:
Kristy Sholly
, (907) 422-0530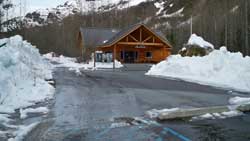 The remaining 1.5 miles of the road to Exit Glacier will open this Friday, May 25 at 8:00 a.m. Due to continued freezing temperatures at night, the water to the restrooms may not be able to be turned on for the Memorial Day weekend. Vault toilets will be available.
The Exit Glacier Nature Center will be open from 9:00 a.m. to 8:00 p.m. daily starting Saturday, May 26. It will be temporarily closed to the public May 30 through June 5 while new exhibits are being installed. Staff will be available for visitor orientation and information in the pavilion, located a short distance from the Nature Center. Ranger-led programs will not be offered until the snow has sufficiently melted to make the trails accessible.
There is still up to four feet of snow covering the trail system and campground. Snowshoes are recommended for travel.
Last updated: April 14, 2015