December 2014 Weather Summary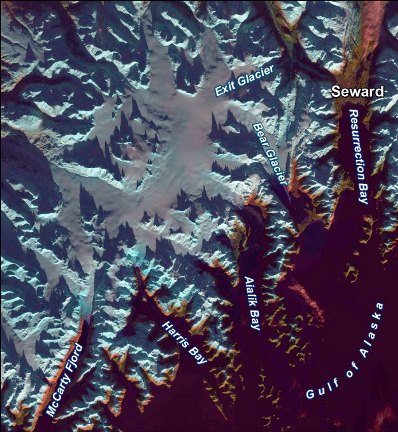 News Release Date:
January 16, 2015
Contact: Deb Kurtz, 907-422-0544
December was another warmer-than-normal month in Kenai Fjords National Park and surrounding areas. As recorded at the Seward airport, the monthly average was 5.8 degrees F above normal, the same temperature departure that was recorded in November. Daily high temperatures were above freezing every day except one and ranged from 31 degrees F (December 26th) to 47 degrees F (December 7th). Consistent with the average monthly temperature, the average daily high and low temperatures were both above normal, exceeding their respective averages by 5.1 and 6.5 degrees F.
The combination of below-normal monthly precipitation and warmer-than-normal temperatures resulted in little snowfall and no snow accumulation at lower elevations. The existing snow pack near Exit Glacier lost 3.9 inches of snow in December, leaving only 4.8 inches of snow at the Exit Glacier January 1st snow survey and no snow on the ground in town. Of the fourteen measurements completed in the last 28 year period of record at Exit Glacier, the 2014-2015 measurement is the lowest January 1st snow pack. It is 13.8 inches below the previous lowest measurement of 18.6 inches recorded January 1, 1991. (See graph in the Snow & Ice section below.)
As recorded at the Seward airport, the monthly average temperature for December was 34.7 degrees F; 5.8 degrees F above the 30-year normal. The total precipitation was 6.8 inches (71% of normal), 2.74 inches below the 30-year normal (1981-2010) for the month.
Also of note:                                                                                       
Read more to find out about the local climate for December 2014 (PDF)
Last updated: December 4, 2017