December 2012 Weather Summary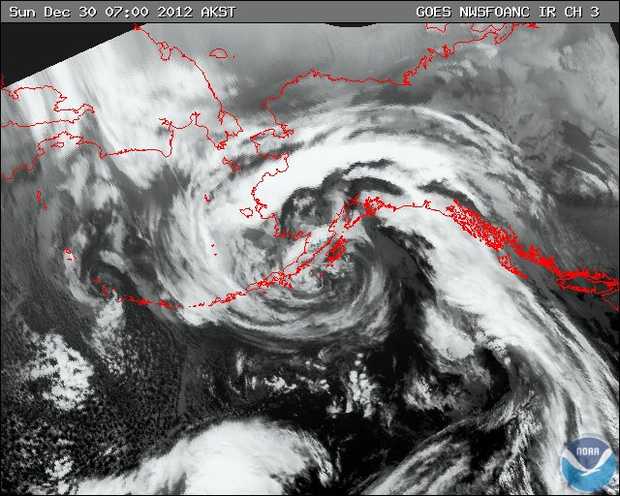 News Release Date:
January 11, 2013
Contact: Deborah Kurtz, (907) 422-0544
Most of December saw a continuation of the cold, dry weather pattern that characterized October and November. That ended abruptly during the last week of the month when multiple storms passed over the area and delivered 95% of the month's precipitation during the final week of the year. These storms (particularly the subtropical cyclone in the image above) brought unseasonably warm temperatures and high winds to accompany the precipitation which fell as a mix of rain, snow, and everything in-between. At the peak of the largest storm on December 30th, wind speeds of 116 mph were recorded at the McArthur Pass weather station located on the outer coast of Kenai Fjords National Park. In advance of the storm, temperatures maxed out at the Seward airport at 47 degrees F on December 29th. Unfortunately, data from the Seward airport was not available for December 30th.
As recorded at the Seward airport, total precipitation for the month was 5.6 inches (58% of normal), 3.94 inches below the 30-year average (1981-2010) for the month. The monthly average temperature for December was 23.9 degrees F; 5.0 degrees F below the 30-year average. December 19th was the gustiest day of the month reported at the Seward airport with a 5-second wind gust of 51 mph. These statistics do not incorporate weather for December 30th as no data was reported for the Seward airport for this day.
Also of note:                                                                                              
Read more to find out about the local climate for December 2012
Last updated: December 4, 2017