Coastal America Spirit Award
Date:
February 17, 2012
Contact:
Kristy Sholly
, (907) 422-0530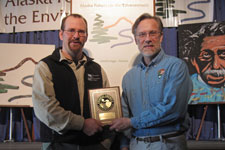 Kenai Fjords National Park and the Resurrection Bay Conservation Alliance (RBCA) were recently honored with a Coastal America Spirit Award for their cooperative work to remove marine debris from beaches around the park. Over the last six years, this partnership has cataloged and removed thousands of pounds of debris from local beaches, reducing hazards to marine life, and improving the visitor experience on these beaches. The project has also gathered valuable data on the composition of marine debris and its rate of accumulation. Much of the work, spearheaded by RBCA Marine Debris Coordinator Tim Johnson, has been accomplished with hundreds of hours of volunteer labor. Over the years, the effort has grown to include not just nearby, easily-accessible beaches, but also more remote locations such as Thunder Bay and Taroka Arm on the park's outer coast.
The Award was presented at this year's Alaska Forum on the Environment in Anchorage. An estimated crowd of 300 were on hand for the ceremony, where an eight minute video about the cleanup effort was also screened.
Coastal America is public-private partnership effort that brings together people and resources from federal agencies, state and local governments, non-governmental organizations, and the private sector to collaboratively address our nation's coastal environmental challenges. Their Spirit Awards recognize exceptional projects that demonstrate the 'spirit' of teamwork for group efforts that are poised to address challenging coastal issues. Kenai Fjords National Park plans to continue working with RBCA in the coming years to address ongoing marine debris issues in and around the park.
Last updated: April 14, 2015