Celebrating National Park Week with Art for Parks
Date:
April 21, 2013
Contact:
CJ Rea
, (907) 422-0531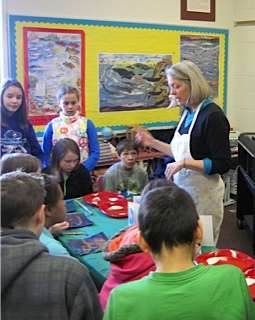 Kenai Fjords National Park will be celebrating National Park Week with its sixth year of the successful Art for Parks program. In the past, the park has paired artists with teachers in all of Seward's classrooms.After five years of excellent art instruction, many teachers will be taking the lead in helping students research facts about the park and communicate them through art. Local artists, including Susan Swiderski, Cindy Capra, Dot Bardarson, and Fiona Ritter-Davis, will assist with projects this year.
The park will host an art show opening at the Information Center, located in Seward's small boat harbor on Friday, May 3 as part of the community's First Friday Art Walk. From 6pm to 8pm, you can learn about the animals, glaciers, plants, and weather of the park through student art work. This year's theme is Did You Know? The Truth about Kenai Fjords National Park.The show will be available for viewing after May 3 from May 11 to May 16 in the Information Center.
Last updated: April 14, 2015