Caring for Our Coast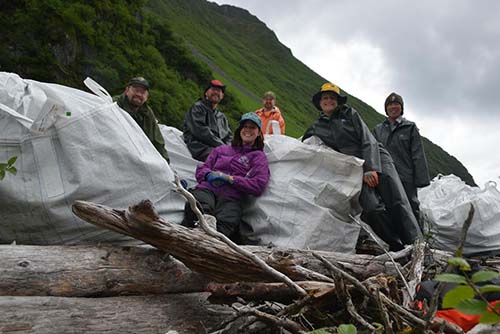 News Release Date:
June 29, 2015
Contact: Sharon Kim, (907)422-0546
Have you seen large white bags on Kenai Fjords National Park's remote outer coast?  These bags contain 2.66 tons (5,320 pounds) of marine debris.  The bags were a collection effort made possible through a partnership with Alaska SeaLife Center, Kenai Fjords National Park, Ocean Alaska Science and Learning Center, Port Graham Corporation, and Resurrection Bay Conservation Alliance.  The bags will be transported by helicopter in late July and loaded on a barge bound for a waste management recycling and landfill facility in Seattle.
Marine debris includes plastic remnants, building materials, and any other non-natural, solid material that ends up in the ocean.  This unnatural debris can affect marine mammals and birds directly through entanglement, strangulation, and digestive blockage.  Additionally, plastics and Styrofoam can break apart into pieces small enough to enter the food chain.  In Kenai Fjords National Park, we see marine debris most when it washes ashore our pristine beaches, and it is an unsightly reminder that our actions impact the more remote ecosystems.
Plastics make up over half of the marine debris recently collected in Kenai Fjords National Park.  Most of us use plastics - if you take a look at your home or office you may notice how much plastic has worked its way in to daily life. Of course, not all plastics are bad.But, is it possible for us to cut down on our consumption of something that can have such detrimental impacts on our natural ecosystems? The National Park Service has been working with partners to remove debris from park shores, and we can all do our part to keep it from getting there in the first place by reducing, reusing, recycling and refusing.  
The recent marine debris clean-up is part of an international project that will remove debris from Kodiak to British Columbia, including the following five Alaska national parks: Bering Land Bridge Cape Krusenstern, Katmai, Kenai Fjords, and Wrangell-St. Elias. Future helicopter collections from Kenai Fjords beaches are being spearheaded by Gulf of Alaska Keeper, who is contracting with Waste Management for the barge, with financial support from the State of Alaska, National Oceanic and Atmospheric Administration (NOAA), and Japan.
Last updated: June 29, 2015