August 2014 Weather Summary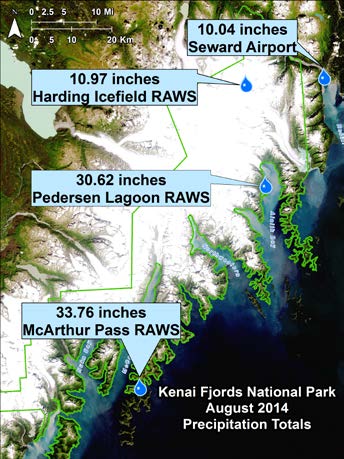 News Release Date:
September 19, 2014
Contact: Deb Kurtz, 907-422-0544
The six month run of below-average monthly precipitation came to an end in August when the Seward airport received more precipitation in one month than it did from February through July 2014 combined. Most of this precipitation occurred early in the month when storms delivered impressive amounts of rain, particularly on August 8thwhen daily totals ranged from 1.59 inches at the Seward airport to 5.49 inches at the Pedersen Lagoon weather station. Monthly precipitation totals indicate that the weather stations in the park's outer fjords received more than three times the amount of rain than the Seward airport (see map), providing a nice illustration of the local climate pattern that results from weakening maritime influences along south-north and east-west gradients in the park. Despite the abundant precipitation received this month, the Kenai Fjords area is still 7.37 inches below average for total annual precipitation for this time of year. Current climate predictionsindicate that this fall and early-winter may make up for this lack of annual precipitation whenEl Niño conditions are expected to develop and provide an added boost to the approaching wet season.
Although true fall does not begin until the equinox in late September, August temperatures indicate that we made a timely turn toward a new season. August daily high temperatures ranged from 55 degrees F to 67 degrees F; that's a 9 degrees F decrease between the maximum daily temperature recorded in July versus August. Temperatures exceeded 60 degrees F on 17 days of the month and measurable precipitation was recorded on 20 days of the month. Winds were relatively calm with an average daily wind speed of 5.1 mph and a maximum average daily wind speed of 10.1 mph.
As recorded at the Seward airport,the monthly average temperature for August was 55.0 degrees F;0.7 degrees F below the 30-year normal. The total precipitation was 10.04 inches (179% of normal), 4.43 inches above the 30-year normal (1981-2010) for the month.
Also of note:  

Read more to find out about the local climate for
August 2014 (PDF)
Last updated: April 14, 2015