An Evening of Salty Spineless Fun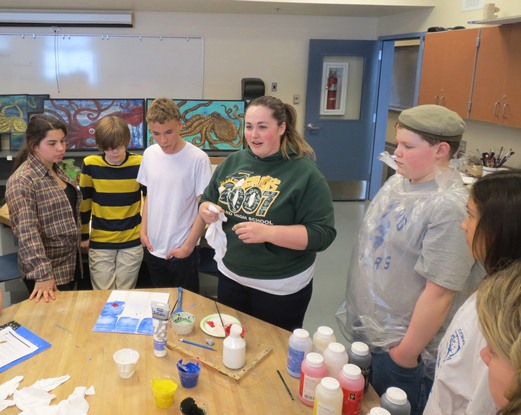 News Release Date:
April 29, 2014
Contact: CJ Rea, 907-422-0531
On May 2nd from 6-8 pm in the Kenai Fjords National Park Information Center at 1212 4th Avenue there will be an art show opening featuring Seward K-12 Student art! This year's show is called "Searching the Seaweed; The Marine Invertebrates of Kenai Fjords National Park."
Art for Parks, a program in its 7th year at the park, features artwork created by local students capturing a relevant theme within the park. The program brings local artists into the classroom to teach students art in many different media but all focusing on the same theme.  The idea is to let students know that the Seward community is filled with wonderful artists and that the students themselves are a part of this group. 
This year many of the artists who visited classrooms are local students themselves.  Drawing from Bethany Waggoner's art classes, as well as, other interested students and recent graduates, 8 of the 15 artists were local students. 
The park would like to thank all of the local artist participants: Gabby Katsma, Erin Doty, Lindsey VonBorstel, Ashley Whiteshield, Maddy Rea, Joanie Merritt, Josh Dotomain, Hannalyn Ohlsen, Brittany Baldwin, Justine Pechuzal, Fiona Ritter-Davis, Luke Rosier, Jenn Haugh, Marylynn Barnwell and Carrie Lunardi.  
Remember that May 2nd is First Friday throughout town with many galleries open and filled with great art. If you can't make it out that evening, stop by the Kenai Fjords National Park Information Center on May 10th or 11th from 9-5 to see the show.  
We hope you'll get a chance to come see the great artwork!
Last updated: April 14, 2015