Art for Parks: Celebrating Marine Mammals of Kenai Fjords National Park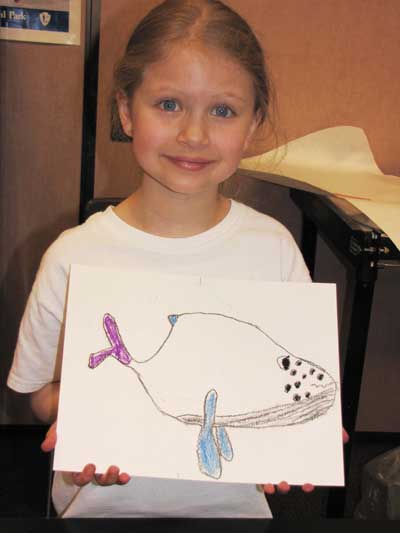 News Release Date:
May 4, 2012
Contact: Kristy Sholly, (907) 422-0530
What breathes air, gives birth to live young, has hair, is warm blooded, and lives in the waters around Kenai Fjords National Park? You guessed it, marine mammals! If you just haven't seen your share of marine mammals lately we recommend you come out on the town on Friday May 4th from 6-8pm and stop in to Kenai Fjords National Park's Information Center in the small boat harbor. There will be whales, seals, sea lions, otters, and perhaps a stray narwhal or walrus, visiting from further north.
Why have they all migrated into the National Park building? To celebrate of course! Last week was National Park Week and all Seward students grades K-12 have been working on art projects with the help of dedicated local artists. Through a program called "Art for Parks" the National Park Service is able to provide supplies and rangers to help artists remind students of their local national park while Kenai Fjords lies buried in the snow.
The park would like to thank all of the artists who helped make the show possible: Dot Bardarson, Kira Hansen, Bethany Waggoner, Callie Stark, Amy Hankins, Krista Doersch, Krista Rodby, and Maddy Rea. These artists donated their time and help to make our community the rich place that it is.
The students' show has its grand opening on May 4th when the whole town of Seward celebrates the first 'First Friday' event of the season. Student works will continue to be on display through May 18th during the open hours of the Information Center. Come visit with us this Friday and enjoy the town's up and coming artists. When you are done at the park, stroll through all of the other great First Friday venues.
Last updated: April 14, 2015